Campus & Community
The 19th Annual Charity Sports Auction, presented by the Sport Management Club at Syracuse University, will be a hybrid auction with bidding opening online via OneCause on Nov. 24 and continuing Dec. 28 at the Syracuse men's basketball game against Louisiana State University (LSU). Online bidding will close on Wednesday, Nov. 29. The Sport Management Club includes students from Falk College. Club members are responsible for collecting the sports items available during the auction, reaching out to athletes, agents and organizations in search of donated goods.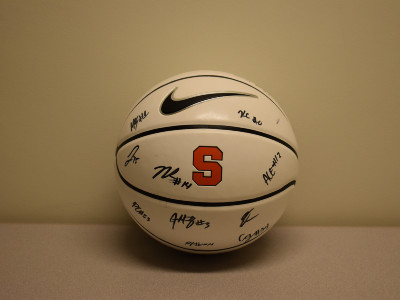 This year's beneficiary is Tillie's Touch, a not-for-profit organization founded by Dale Johnson in 2008 to help youth overcome barriers and maintain a 100% high school graduation rate. The organization's goal is to make an impact in the lives of Central New York youth, provide opportunities to play sports and help children achieve academic excellence. Tillie's Touch serves 1,500 youth annually.
Over the past 19 years, the Sport Management Club has raised over $665,000 for Central New York nonprofit organizations. Featured items this year include a Super Bowl football signed by Tyreek Hill, a Ichiro Suzuki signed baseball and Buddy Boehiem signed basketball, among other items.
To further the auction's mission of community impact, Apex Entertainment is this year's title sponsor.  "We are really proud to work with Apex Entertainment for another year. They were amazing to work with last year, and we look forward to working together again to raise money for Tillie's Touch," says auction co-chair Jacob Geisinger.
The 19th Annual Charity Sports Auction will take place in the backcourt of the JMA Wireless Dome as the Syracuse Orange take on LSU in front of tens of thousands of dedicated fans and the Syracuse community.
Visit www.sucharitysportsauction.com or follow on Twitter @SPM_Auction, Facebook https://www.facebook.com/SPMAuction/ and Instagram @SPM_Auction for the most up-to-date event information. To register for online bidding or make a monetary donation, visit https://onecau.se/spm-auction.
This story was written by Zach Roth '24.

The WEBFI algorithm actively curates and presents current news from the Internet, delivering it in both written and video formats on our platform. Unlike many other news sources, WEBFI Network - News Balance Security is committed to a user-friendly experience. We refrain from displaying advertising within our content, avoid any redirects to external sites, and meticulously filter out any graphic content deemed unsafe, sensitive, or private. Our primary goal is to provide visitors with a distraction-free and secure environment, ensuring they receive the news they seek.
Importantly, WEBFI Network does not collect any personal information from our visitors, and we do not engage in newsletter subscriptions. We take pride in remaining entirely advertiser-free, thanks to the support of our contributors and our dedicated hosting service partners. It's crucial to note that the opinions and content presented on our platform do not necessarily align with WEBFI NETWORK's opinion, philosophy, or vision. We strongly uphold the principle of freedom of speech, welcoming a diverse range of perspectives and ideas.
---
🌐 Discover News Balance 🇺🇲 - Your Round-the-Clock Source for Unbiased News!
Experience a continuous stream of comprehensive, unbiased news coverage 24/7/365 with News Balance 🇺🇲. Our carefully curated playlist ⏯ delivers a harmonious blend of national and global politics, cutting-edge tech updates, weather forecasts, noteworthy events, and captivating entertainment news.
The best part? No subscriptions, registrations, or downloads required. Enjoy an ad-free news experience with News Balance 🇺🇲.
 Since 2018
"Introducing Unstoppable Private WebFi Websites – Your Forever Digital Haven.
Experience a lifetime of ownership with WebFi – where your digital presence is a lifelong investment. Embark on your journey to own a private website for life.
Our private servers set the gold standard in security and performance, ensuring your website stays in top form. With our lifetime license, the days of fretting about hosting renewals are behind you.
Unlock your very own WebFi space granting you a perpetual haven for your projects, free from the burden of recurring payments. Your sole financial commitment? Domain annuities to your domain provider – nothing more!
Choose WebFi and own your digital future, secure, simple, and everlasting."LEARN MORE
---
WEBFI |🟢LIVE | TECH  | MAGAZINE | NEWS | CRYPTO&MARKET | LATINO|⛅WEATHER |☕ HURRICANE WATCH RADAR WATCH
X