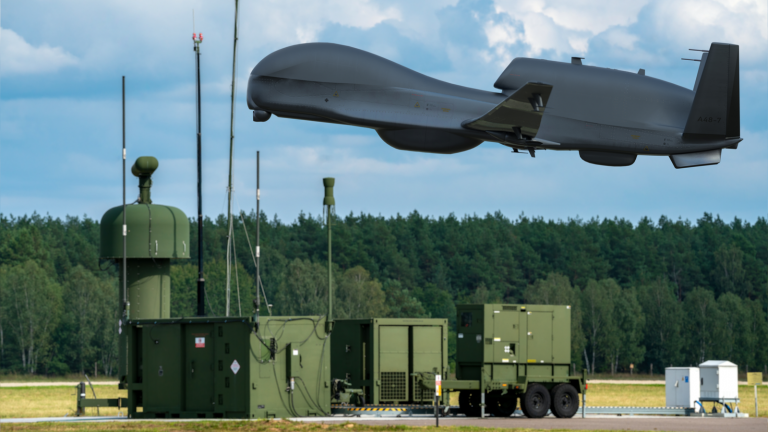 Source: Mike Mareen / Shutterstock.com
Drone stocks may have fallen out of favor recently amid investors moving their funds to sexier investments like AI, the Metaverse or cryptocurrencies. Still, drone technology stocks might be better picks, given the more mature state of the technology and the positive cash flow.
Investors can also choose stocks that represent solid upside potential. Some catalysts for these stocks include increased commercial and recreational users and further technological developments.
So, if you are after a list of drone stocks that will soar to new heights, here are some companies to consider.
AeroVironment (AVAV)
AeroVironment (NASDAQ:AVAV) is a defense contractor focusing on unmanned aerial vehicles (UAVs) and has contracts with the Department of Defense.
AVAV stock presents a bullish case as it demonstrates solid technical patterns, with its relative strength line reaching a 52-week high and forming a 32-day cup pattern last month, a buy signal.
The company's focus on advanced unmanned aircraft systems like the Puma for surveillance resonates with current defense trends. Some of these trends are witnessed today in the wars in Ukraine and, most recently, between Hamas and Israel.
These factors make AVAV stock one of those drone stocks for investors to consider buying.
Boeing (BA)
Boeing (NYSE:BA) has a growing presence in the drone market with UAVs like the ScanEagle and the MQ-25 Stingray, which was demonstrated refueling a Navy jet mid-air.
One of BA stock's drones, which has been in development for some time, is expected to make a significant impact.
​The Boeing MQ-28 Ghost Bat is a cutting-edge UAV developed by Boeing Australia in partnership with the RAAF, designed to complement crewed combat aircraft through advanced AI-driven reconnaissance and surveillance capabilities. 
The MQ-28 further strengthens the trend of reducing boots on the ground and instead relying on these kinds of asymmetric warfare tactics that help preserve human life. It also has jet-like performance and bolsters Australia's defense while demonstrating Boeing's commitment to UAV innovation outside the U.S.
EHang (EH)
EHang (NASDAQ:EH) is a Chinese company pioneering the development of passenger drones for transportation and tourism.
The company's shares surged 25% upon receiving a type certificate from China's CAAC for its EH216-S, a two-passenger autonomous eVTOL, signaling compliance with safety and airworthiness standards and greenlighting passenger-carrying commercial operations.
This has led some analysts and commentators to recommend EH as a flying car stock that investors should also pay attention to.
EH stock also boasts some superb momentum characteristics. For instance, it is currently up over 200% year-to-date and trades just below its 200-day moving average.
With its improving fundamentals and strong price technicals, it's one of those drone stocks to buy.
On the date of publication, Matthew Farley did not have (either directly or indirectly) any positions in the securities mentioned in this article. The opinions expressed are those of the writer, subject to the InvestorPlace.com Publishing Guidelines.

The WEBFI algorithm actively curates and presents current news from the Internet, delivering it in both written and video formats on our platform. Unlike many other news sources, WEBFI Network - News Balance Security is committed to a user-friendly experience. We refrain from displaying advertising within our content, avoid any redirects to external sites, and meticulously filter out any graphic content deemed unsafe, sensitive, or private. Our primary goal is to provide visitors with a distraction-free and secure environment, ensuring they receive the news they seek.
Importantly, WEBFI Network does not collect any personal information from our visitors, and we do not engage in newsletter subscriptions. We take pride in remaining entirely advertiser-free, thanks to the support of our contributors and our dedicated hosting service partners. It's crucial to note that the opinions and content presented on our platform do not necessarily align with WEBFI NETWORK's opinion, philosophy, or vision. We strongly uphold the principle of freedom of speech, welcoming a diverse range of perspectives and ideas.
---
🌐 Discover News Balance 🇺🇲 - Your Round-the-Clock Source for Unbiased News!
Experience a continuous stream of comprehensive, unbiased news coverage 24/7/365 with News Balance 🇺🇲. Our carefully curated playlist ⏯ delivers a harmonious blend of national and global politics, cutting-edge tech updates, weather forecasts, noteworthy events, and captivating entertainment news.
The best part? No subscriptions, registrations, or downloads required. Enjoy an ad-free news experience with News Balance 🇺🇲.
 Since 2018
"Introducing Unstoppable Private WebFi Websites – Your Forever Digital Haven.
Experience a lifetime of ownership with WebFi – where your digital presence is a lifelong investment. Embark on your journey to own a private website for life.
Our private servers set the gold standard in security and performance, ensuring your website stays in top form. With our lifetime license, the days of fretting about hosting renewals are behind you.
Unlock your very own WebFi space granting you a perpetual haven for your projects, free from the burden of recurring payments. Your sole financial commitment? Domain annuities to your domain provider – nothing more!
Choose WebFi and own your digital future, secure, simple, and everlasting."LEARN MORE
---
WEBFI |🟢LIVE | TECH  | MAGAZINE | NEWS | CRYPTO&MARKET | LATINO|⛅WEATHER |☕ HURRICANE WATCH RADAR WATCH
X