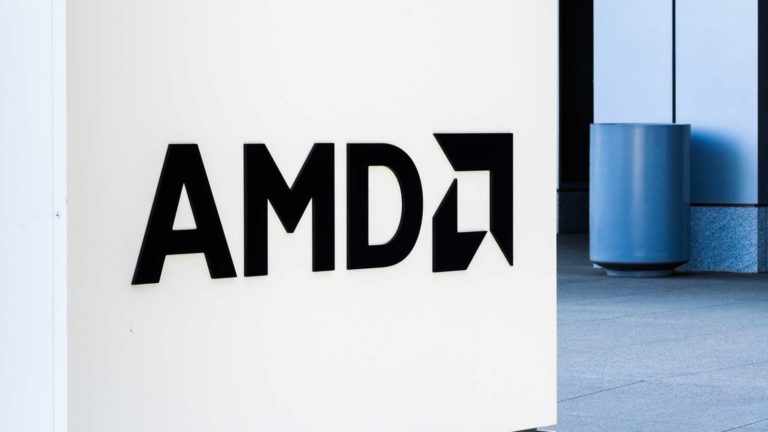 Source: Sundry Photography / Shutterstock.com
Advanced Micro Devices (NASDAQ:AMD) stock rebounded after a challenging start to the year. A 42% YoY surge in CPU sales powered AMD's reported revenue of $5.8 billion, with adjusted earnings of $0.70 per share. The company should ship MI300X chips to cloud customers soon, anticipating AI accelerators to boost market share.
AMD stock should see further gains, with analysts projecting an 11% increase from current levels. AMD's Q3 financial results surpassed expectations, with earnings of 70 cents per share and a 4% YoY increase in revenue to $5.8 billion. The highlight was AMD's impressive 2024 forecast, expecting $2 billion in AI microchip sales.
Optimistic Q4 Projections for AMD Stock
AMD stock surpassed Q3 earnings expectations but presented a lower Q4 forecast, causing a brief dip in stock value. The company's AI chips, MI300A and MI300X, are progressing well for anticipated volume production this quarter, boosting confidence for a positive 2024 outlook in the AI chip sector.
AMD CEO Lisa Su expects data center GPU revenue to hit approximately $400 million in Q4 and surpass $2 billion in 2024. Q3 net income rose to $299 million, with revenue up 4% to $5.6 billion. AMD aims for significant growth in its data center business, emphasizing its commitment to the market with recent AI acquisitions and software enhancements.
Su also highlighted the growth in generative AI workloads during the earnings call. The Client group, covering PC processors, saw a 42% year-over-year revenue increase to $1.5 billion.
The embedded segment revenue declined 5% to $1.2 billion, attributed to a weak communications market. Gaming segment sales dropped 8% to $1.5 billion, impacted by fewer "semi-custom" chip sales for consoles like PlayStation 5.
AMD Announces Instinct MI300 Event
AMD unveiled the next-gen AMD Instinct MI300 data center GPU accelerator family during the "Advancing AI" event on December 6, 2023. AMD Chair and CEO Dr. Lisa Su, along with executives, AI ecosystem partners, and customers, discussed the company's impact on the AI, adaptive, and high-performance computing landscape.
AMD has begun shipments of Instinct MI300A accelerated processing units to the Lawrence Livermore National Laboratory for the El Capitan supercomputer, boasting performance exceeding 2 ExaFLOPS. The MI300A, designed with three eight-core Zen 4 chiplets and multiple CDNA3 chiplets, is optimized for AI and high-performance computing workloads.
AMD Stock Is Certainly Worth a Look Right Now
AMD's Genoa-based EPYC server CPUs achieved over 50% sequential revenue growth last quarter, while the initial shipment of Instinct MI300 GPU accelerators for high-performance computing began. With production set to rise, the data center segment expects to surpass $2 billion in revenue next year, a significant uptick from this quarter's sales of around $1.6 billion. 
Additionally, the forthcoming launch of AMD's next-gen EPYC server CPU, Turin, in 2024 is poised to further propel data center momentum.
Last quarter saw the introduction of 50+ laptops featuring AMD's new Ryzen 7000 chips. Collaborating with Microsoft, AMD is leveraging its on-chip AI engine for advancements in the next Windows release, potentially challenging Nvidia's dominance in data center AI acceleration.
On the date of publication, Chris MacDonald did not have (either directly or indirectly) any positions in the securities mentioned in this article. The opinions expressed in this article are those of the writer, subject to the InvestorPlace.com Publishing Guidelines.

The WEBFI algorithm actively curates and presents current news from the Internet, delivering it in both written and video formats on our platform. Unlike many other news sources, WEBFI Network - News Balance Security is committed to a user-friendly experience. We refrain from displaying advertising within our content, avoid any redirects to external sites, and meticulously filter out any graphic content deemed unsafe, sensitive, or private. Our primary goal is to provide visitors with a distraction-free and secure environment, ensuring they receive the news they seek.
Importantly, WEBFI Network does not collect any personal information from our visitors, and we do not engage in newsletter subscriptions. We take pride in remaining entirely advertiser-free, thanks to the support of our contributors and our dedicated hosting service partners. It's crucial to note that the opinions and content presented on our platform do not necessarily align with WEBFI NETWORK's opinion, philosophy, or vision. We strongly uphold the principle of freedom of speech, welcoming a diverse range of perspectives and ideas.
---
🌐 Discover News Balance 🇺🇲 - Your Round-the-Clock Source for Unbiased News!
Experience a continuous stream of comprehensive, unbiased news coverage 24/7/365 with News Balance 🇺🇲. Our carefully curated playlist ⏯ delivers a harmonious blend of national and global politics, cutting-edge tech updates, weather forecasts, noteworthy events, and captivating entertainment news.
The best part? No subscriptions, registrations, or downloads required. Enjoy an ad-free news experience with News Balance 🇺🇲.
 Since 2018
"Introducing Unstoppable Private WebFi Websites – Your Forever Digital Haven.
Experience a lifetime of ownership with WebFi – where your digital presence is a lifelong investment. Embark on your journey to own a private website for life.
Our private servers set the gold standard in security and performance, ensuring your website stays in top form. With our lifetime license, the days of fretting about hosting renewals are behind you.
Unlock your very own WebFi space granting you a perpetual haven for your projects, free from the burden of recurring payments. Your sole financial commitment? Domain annuities to your domain provider – nothing more!
Choose WebFi and own your digital future, secure, simple, and everlasting."LEARN MORE
---
WEBFI |🟢LIVE | TECH  | MAGAZINE | NEWS | CRYPTO&MARKET | LATINO|⛅WEATHER |☕ HURRICANE WATCH RADAR WATCH
X