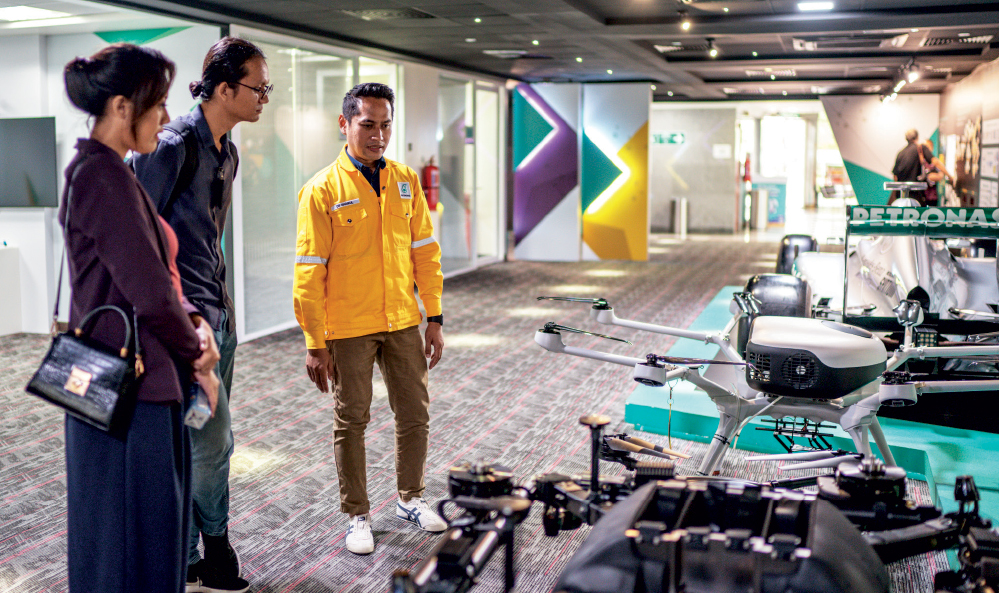 Dr Khairul Rostani, Manager (Technology Programme), Project Delivery and Technology, PETRONAS, showcasing PETRONAS hydrogen-powered drones — one of several new technologies the group employs at its oil platforms
With the world gradually moving towards cleaner energy, Petroliam Nasional Bhd (PETRONAS) is leveraging new technologies to decarbonise its operations just short of three decades from now.
In 2020, the group was the first national oil company in Southeast Asia to declare its target of achieving net zero carbon emissions (NZCE) by 2050, aiming to reduce emissions across its enterprise.
PETRONAS Senior Vice-President of Project Delivery and Technology Datuk Bacho Pilong says the group is committed to delivering its mandate, which is to safeguard and manage the nation's hydrocarbon resources responsibly, pointing out that the group has made significant progress since the introduction of PETRONAS Carbon Commitments in 2012.
"We are well aware that there's a lot to be done to meet this target, and the clock is ticking. Indeed, we are in a race to decarbonise and are intensifying efforts to reduce emissions across the enterprise in line with our NZCE 2050 targets," he adds.
Decarbonisation across the enterprise
PETRONAS' decarbonisation efforts rely on four levers, the first being zero routine flaring and venting. The group has conducted three flare reduction projects and one vent reduction project for its upstream business, namely in the Kinabalu and Bintulu integrated facilities, the Sabah Oil and Gas Terminal, and Dulang.
The second lever is banking on its energy efficiency, with the group harnessing the power of data, analytics and artificial intelligence (AI) to optimise energy use. In total, these two levers resulted in a reduction of 0.62 million tonnes of carbon dioxide equivalent (tCO2e) in 2022, says Bacho.
Besides these initiatives, PETRONAS is also relying on a third lever — electrification — which includes obtaining 90MW of hydroelectric power import from Sarawak Energy Bhd's subsidiary Syarikat SESCO Bhd for the PETRONAS LNG Complex (PLC) in Bintulu, accounting for 40% of the complex's power.
The fourth lever is carbon capture and storage (CCS), in which the group looks to partner with technology providers to capture CO2 and inject it into deep geological formations for permanent secure storage.
Bacho points to Phase 2 of the Kasawari Gas Field project, which will be one of the largest offshore CCS projects in the world when it comes onstream in 2026.
"This project is not only crucial for PETRONAS but also for the rest of the world for delivering lower-carbon LNG, which is recognised as a transition fuel," he says, adding that the group has been developing solutions supporting CCS for many years, such as technologies to de-risk storage integrity, improve gas separation and minimise corrosion.
Addressing upstream emissions via carbon capture and storage
PETRONAS' first CCS project is to capture and store CO2 emissions from the Kasawari Gas Field. Among other cutting-edge technologies, the project involves more than 10 in-house innovations developed right at PETRONAS' research hub in Bangi.
According to Dr Khairul Rostani, Manager (Technology Programme), Project Delivery and Technology at PETRONAS, in-house innovations, such as the award-winning membrane contactor technology, are vital in capturing CO2 emissions from furnaces and thermal oxidisers, which typically account for up to 65% of emissions from the asset's operations.
"This membrane contactor technology is a novel technology we developed with our partners. It is specifically designed for us to capture the CO2 from our onshore operations," he explains, highlighting that this particular solution is more compact and costs 30% less than conventional solutions.
The captured carbon will then be either converted into valuable products such as methanol, or injected into depleted gas fields, such as M1, which acts as a storage site, with the first injection slated for 2026. Once in operation, annual flaring emissions from Kasawari are expected to be reduced by 3.3 million tCO2e.
PETRONAS' own carbon capture and utilisation technologies, CryoMin and Precipitated Calcium Carbonate, were recognised internationally when they bagged the Developing Economies Energy Company of the Year award at the prestigious ADIPEC Awards 2023 recently.
Going forward, the group plans to adopt CCS for its high CO2 fields and is also exploring the development of CCS value chains — a potential new source of growth for PETRONAS.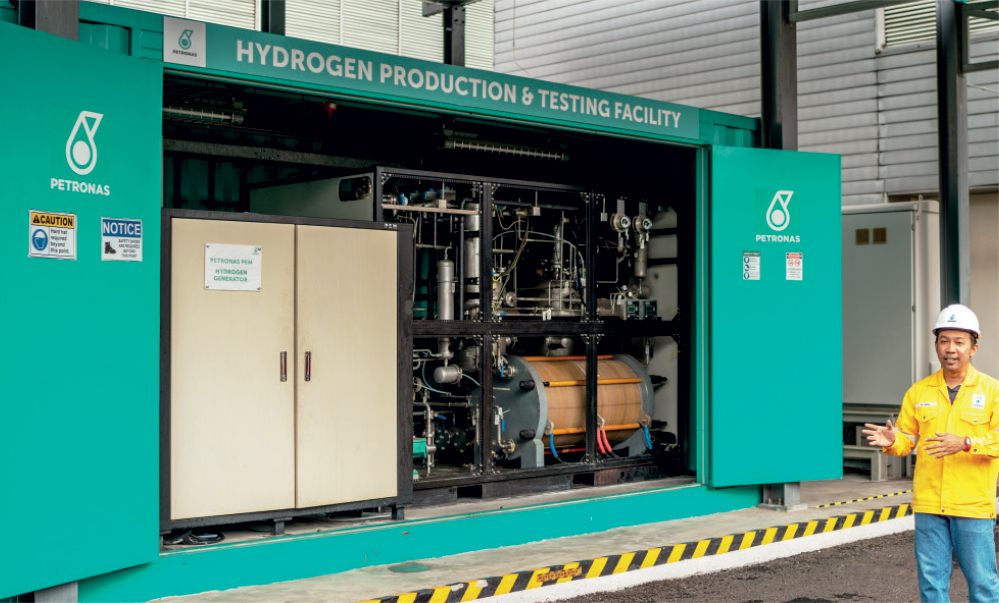 Wan Anas Masyudi Wan Abdullah Sani, Senior Manager (Technology Programme), Project Delivery and Technology, PETRONAS, showcasing the company's state-of-the-art hydrogen production and testing facility
Green hydrogen a vital component of a low-carbon energy mix
Beyond these initiatives, PETRONAS is also looking at green hydrogen as a critical component of its energy transition journey through its clean energy subsidiary Gentari Sdn Bhd, which aims to supply up to 1.2 million tonnes of green hydrogen annually by 2030.
Bacho says hydrogen is an important alternative energy source to complement gas and renewables, highlighting several of Gentari's partnerships to accelerate the adoption and development of hydrogen technologies.
"Under a collaboration with Universiti Kebangsaan Malaysia (UKM), we developed a high-efficiency proton exchange membrane (PEM) electrolyser to produce green hydrogen at a much lower cost. It is the first commercial hydrogen electrolyser made in Southeast Asia," he explains.
"We are in several collaborations as a technology provider to actively support Sarawak's hydrogen aspiration, including the state's multifuel stations and the upcoming Autonomous Rapid Transit (ART)."
To date, PETRONAS, through Gentari, has a number of ongoing collaborations with foreign partners and customers to develop low-carbon hydrogen projects locally and abroad, which include the development and transport of green hydrogen, advocacy of policy and regulations to support the hydrogen industry, and studies on a low-carbon ammonia supply chain.
Green mobility is another area of focus for Gentari, which aims to capture a 10% share of public electric vehicle (EV) charging points and the vehicle-as-a-service market across key countries in Asia-Pacific. As at August 2023, more than 340 Gentari charging points had been installed, with more than 1,400 EVs deployed under its vehicle-as-a-service offering.
Besides that, it is also continuously scaling up its renewable energy (RE) capacity, targeting to achieve 30GW to 40GW of installed capacity by 2030 to serve commercial, industrial and retail customers. Currently, Gentari has 2GW of RE capacity in operations and under development globally.
Collaborating for a cleaner future
PETRONAS' initiatives to lower its emissions align with the global shift towards cleaner energy, as well as Malaysia's National Energy Transition Roadmap (NETR) unveiled in July, which aims to establish a low-carbon pathway and national energy mix to reduce emissions via CCS and hydrogen integration, as well as biomass and waste-to-energy solutions.
Collaboration between stakeholders is essential to strengthen innovation ecosystems where people, solutions and platforms can advance organically to support a just energy transition, says Bacho.
He points to the Race2Decarbonise global hackathon hosted by PETRONAS — a platform for individuals and organisations to submit their ideas that can reduce emissions in the areas of stationary combustion, flaring and venting, as well as fugitive emissions relevant to the group's operations.
The initiative drew over 1,500 ideas and submissions in three months, spurring innovation among individuals, start-ups and corporations, reflecting the value of collaboration in addressing the climate challenge.
"Nations in Asia, tackling the energy trilemma in their respective unique context, can turn challenges into opportunities when we leverage each other's strengths and resources through strategic collaborations," says Bacho.
"Through collaboration, we hypercharge innovation, attract investments to power up the green economy and build the necessary talent pipelines and ecosystems. We are charging ahead in energy transition for the 'amanah' we are entrusted with, the country and future generations."

The WEBFI algorithm actively curates and presents current news from the Internet, delivering it in both written and video formats on our platform. Unlike many other news sources, WEBFI Network - News Balance Security is committed to a user-friendly experience. We refrain from displaying advertising within our content, avoid any redirects to external sites, and meticulously filter out any graphic content deemed unsafe, sensitive, or private. Our primary goal is to provide visitors with a distraction-free and secure environment, ensuring they receive the news they seek.
Importantly, WEBFI Network does not collect any personal information from our visitors, and we do not engage in newsletter subscriptions. We take pride in remaining entirely advertiser-free, thanks to the support of our contributors and our dedicated hosting service partners. It's crucial to note that the opinions and content presented on our platform do not necessarily align with WEBFI NETWORK's opinion, philosophy, or vision. We strongly uphold the principle of freedom of speech, welcoming a diverse range of perspectives and ideas.
---
🌐 Discover News Balance 🇺🇲 - Your Round-the-Clock Source for Unbiased News!
Experience a continuous stream of comprehensive, unbiased news coverage 24/7/365 with News Balance 🇺🇲. Our carefully curated playlist ⏯ delivers a harmonious blend of national and global politics, cutting-edge tech updates, weather forecasts, noteworthy events, and captivating entertainment news.
The best part? No subscriptions, registrations, or downloads required. Enjoy an ad-free news experience with News Balance 🇺🇲.
 Since 2018
"Introducing Unstoppable Private WebFi Websites – Your Forever Digital Haven.
Experience a lifetime of ownership with WebFi – where your digital presence is a lifelong investment. Embark on your journey to own a private website for life.
Our private servers set the gold standard in security and performance, ensuring your website stays in top form. With our lifetime license, the days of fretting about hosting renewals are behind you.
Unlock your very own WebFi space granting you a perpetual haven for your projects, free from the burden of recurring payments. Your sole financial commitment? Domain annuities to your domain provider – nothing more!
Choose WebFi and own your digital future, secure, simple, and everlasting."LEARN MORE
---
WEBFI |🟢LIVE | TECH  | MAGAZINE | NEWS | CRYPTO&MARKET | LATINO|⛅WEATHER |☕ HURRICANE WATCH RADAR WATCH
X