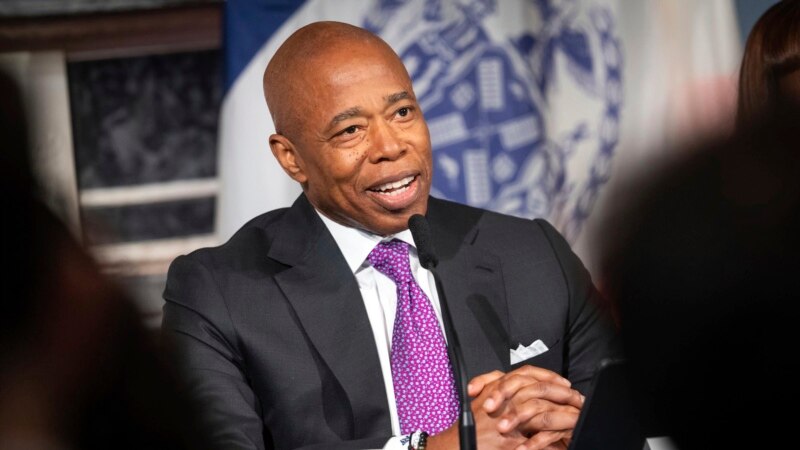 NUEVA YORK, EEUU — 
Agentes del FBI incautaron teléfonos y un iPad al alcalde neoyorquino Eric Adams esta semana como parte de una investigación sobre la recaudación de fondos de su campaña, confirmó su abogado el viernes.
Las incautaciones se llevaron a cabo después de un evento el lunes por la noche, según una declaración de Boyd Johnson, el abogado del alcalde.
"El lunes por la noche, el FBI se acercó al alcalde tras un evento. El alcalde cumplió de inmediato con la solicitud del FBI y les dio los dispositivos electrónicos", indicó Johnson en el comunicado. "El alcalde no ha sido acusado de ninguna irregularidad y sigue cooperando con la investigación".
La incautación de los dispositivos, reportada primero por The New York Times, ocurrió días después de que agentes federales registraron la vivienda en el distrito de Brooklyn de la principal recaudadora de fondos de la campaña de Adams, Brianna Suggs. Ese registro hizo que el alcalde cancelara un viaje que tenía previsto para reunirse con funcionarios de la Casa Blanca en Washington, y en lugar de ello regresó a Nueva York.
Adams no hizo comentarios públicos sobre la incautación de sus dispositivos cuando se reunió con reporteros el miércoles, y dijo que no estaba al tanto de alguna acción indebida por parte de los miembros de su equipo de campaña.
En un comunicado emitido el viernes, Johnson dijo que Adams está comprometido a cooperar con la pesquisa.
"Después de ser informado sobre la investigación federal, se encontró que un individuo había actuado indebidamente hace poco. En el espíritu de transparencia y cooperación, este comportamiento se comunicó de forma inmediata y proactiva a los investigadores", dijo, sin proporcionar más detalles.
Un portavoz de la fiscalía federal de Manhattan rechazó comentar al respecto.
"Como exintegrante de la policía, espero que todos los miembros de mi personal se apeguen a la ley y cooperen plenamente con cualquier tipo de investigación, y seguiré haciendo exactamente eso. No tengo nada que ocultar", declaró Adams, excapitán de policía, en un comunicado.
Los fiscales no han dado a conocer cuál es el objetivo de la investigación, pero una orden de registro obtenida por The New York Times indica que las autoridades están examinando si la campaña de Adams conspiró con el gobierno turco para recibir donaciones de fuentes extranjeras, canalizadas a través de donantes prestanombres.
En aquel momento, el principal abogado del alcalde en el Ayuntamiento había confirmado que el gobierno se estaba comunicando con los fiscales federales, pero se negó a hablar de lo que ello implicaba.

The WEBFI algorithm actively curates and presents current news from the Internet, delivering it in both written and video formats on our platform. Unlike many other news sources, WEBFI Network - News Balance Security is committed to a user-friendly experience. We refrain from displaying advertising within our content, avoid any redirects to external sites, and meticulously filter out any graphic content deemed unsafe, sensitive, or private. Our primary goal is to provide visitors with a distraction-free and secure environment, ensuring they receive the news they seek.
Importantly, WEBFI Network does not collect any personal information from our visitors, and we do not engage in newsletter subscriptions. We take pride in remaining entirely advertiser-free, thanks to the support of our contributors and our dedicated hosting service partners. It's crucial to note that the opinions and content presented on our platform do not necessarily align with WEBFI NETWORK's opinion, philosophy, or vision. We strongly uphold the principle of freedom of speech, welcoming a diverse range of perspectives and ideas.
---
🌐 Discover News Balance 🇺🇲 - Your Round-the-Clock Source for Unbiased News!
Experience a continuous stream of comprehensive, unbiased news coverage 24/7/365 with News Balance 🇺🇲. Our carefully curated playlist ⏯ delivers a harmonious blend of national and global politics, cutting-edge tech updates, weather forecasts, noteworthy events, and captivating entertainment news.
The best part? No subscriptions, registrations, or downloads required. Enjoy an ad-free news experience with News Balance 🇺🇲.
 Since 2018
"Introducing Unstoppable Private WebFi Websites – Your Forever Digital Haven.
Experience a lifetime of ownership with WebFi – where your digital presence is a lifelong investment. Embark on your journey to own a private website for life.
Our private servers set the gold standard in security and performance, ensuring your website stays in top form. With our lifetime license, the days of fretting about hosting renewals are behind you.
Unlock your very own WebFi space granting you a perpetual haven for your projects, free from the burden of recurring payments. Your sole financial commitment? Domain annuities to your domain provider – nothing more!
Choose WebFi and own your digital future, secure, simple, and everlasting."LEARN MORE
---
WEBFI |🟢LIVE | TECH  | MAGAZINE | NEWS | CRYPTO&MARKET | LATINO|⛅WEATHER |☕ HURRICANE WATCH RADAR WATCH
X