Ethiopian Airlines Group, the fastest-growing global airline brand and the continent's largest airline, is pleased to announce that it selects AVANT Up inflight entertainment solution for its upcoming aircraft Airbus A350-1000.
Ethiopian, a multi award winner including SKYTRAX awards for six years in a row, will introduce the latest technology inflight entertainment system from Thales Inflyt Experience with a new user interface to enhance passengers' experience, several digital services such as: interactive maps, shopping, and meal and beverage selections.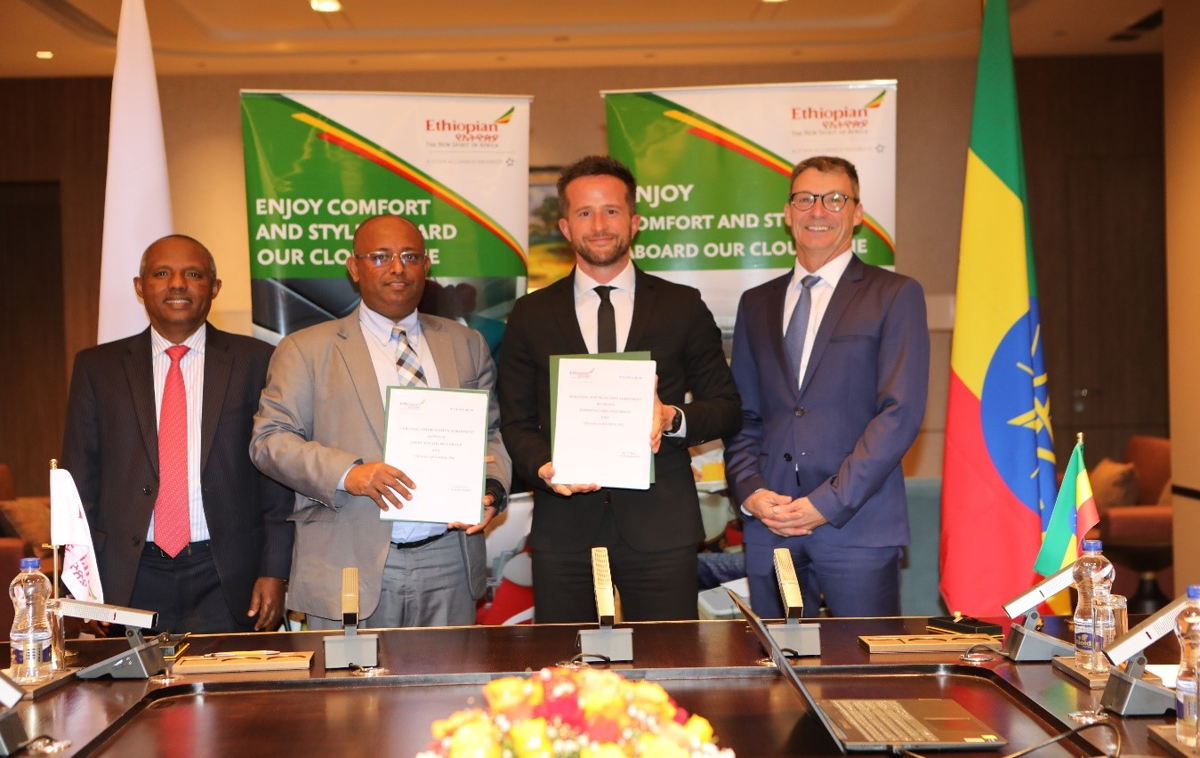 Bruno GUINAMAND, Regional Vice President, Thales Inflyt Experience, "Ethiopian has trusted Thales as an inflight entertainment supplier for more than a decade and now to equip its new A350-1000 aircraft with the latest AVANT Up IFE solution. Thales' AVANT Up brings to Ethiopian the latest consumer technologies and capabilities to the aircraft. Combining our Optiq 4K QLED HDR displays, award-winning dynamic power, and next generation digital services will bring exceptional experiences to Ethiopian's passengers."
Reiterating Ethiopian Airlines' commitment to continuously enhance customers' onboard experience, Ethiopian Airlines Group CEO Mr. Mesfin Tasew said, «As we endeavor to maintain our position as Africa's number one and among the leading global airlines, we know one of the key success factors is giving our passengers the best possible onboard experience. We are delighted to introduce the AVANT Up in-flight entertainment solution for our upcoming Airbus A350-1000 aircraft where passengers will enjoy the finest immersive and cinematic experience. The system provides several unique features ​ enabling ​ passengers to be entertained throughout the flight and arrive at their destination relaxed." ​
Thales' AVANT Up features new OPTIQ 4k QLED HDR displays. It includes two Bluetooth connections and built-in Wi-Fi, allowing passengers to pair multiple devices. OPTIQ is designed with in-screen USB-A and USB-C charging ports giving passengers up to 70 watts to charge their ear pods, phones, tablets or laptops during the flight.
Recipient of numerous prestigious awards including SKYTRAX "the best airline in Africa" for the sixth year in a row, Ethiopian will continue to invest on technology to elevate passengers' onboard experience.
The first of Ethiopian Airlines' Airbus A350-1000 aircrafts on order is set to be delivered in the third Quarter of 2024.
About Ethiopian Airlines
Ethiopian Airlines Group (Ethiopian) is the fastest-growing airlines brand globally and the continent's largest airline brand. In its seventy-seven years of successful operations, Ethiopian, the fastest growing airline, has become one of the continent's leading carriers, unrivalled in efficiency and operational success. Ethiopian commands the lion's share of the African passenger and cargo network operating the youngest and most modern fleet to more than 150 domestic and international passenger and cargo destinations across five continents. Ethiopian's fleet category consists of ultra-modern and environmentally friendly aircraft such as Boeing 737s, 777s, 787s, Airbus A350-900 and Bombardier Dash 8-400 double cabin with an average fleet age of seven years. In fact, Ethiopian is the first airline in Africa to own and operate most of these aircraft. ​
As a multi-award-winning airline, Ethiopian has been the champion in various coveted awards including Skytrax's 'Best Airline in Africa Award' for six consecutive years among others. The airline has been a Star Alliance member since 2011 and has been registering more than threefold growth in the past 10 years. ​
For more at: http://www.ethiopianairlines.com ​ ​ ​ ​ ​
Email: CorporateCommunication@ethiopianairlines.com ​ ​
Contact: (251-11)517-8913/8165/8907

The WEBFI algorithm actively curates and presents current news from the Internet, delivering it in both written and video formats on our platform. Unlike many other news sources, WEBFI Network - News Balance Security is committed to a user-friendly experience. We refrain from displaying advertising within our content, avoid any redirects to external sites, and meticulously filter out any graphic content deemed unsafe, sensitive, or private. Our primary goal is to provide visitors with a distraction-free and secure environment, ensuring they receive the news they seek.
Importantly, WEBFI Network does not collect any personal information from our visitors, and we do not engage in newsletter subscriptions. We take pride in remaining entirely advertiser-free, thanks to the support of our contributors and our dedicated hosting service partners. It's crucial to note that the opinions and content presented on our platform do not necessarily align with WEBFI NETWORK's opinion, philosophy, or vision. We strongly uphold the principle of freedom of speech, welcoming a diverse range of perspectives and ideas.
---
🌐 Discover News Balance 🇺🇲 - Your Round-the-Clock Source for Unbiased News!
Experience a continuous stream of comprehensive, unbiased news coverage 24/7/365 with News Balance 🇺🇲. Our carefully curated playlist ⏯ delivers a harmonious blend of national and global politics, cutting-edge tech updates, weather forecasts, noteworthy events, and captivating entertainment news.
The best part? No subscriptions, registrations, or downloads required. Enjoy an ad-free news experience with News Balance 🇺🇲.
 Since 2018
"Introducing Unstoppable Private WebFi Websites – Your Forever Digital Haven.
Experience a lifetime of ownership with WebFi – where your digital presence is a lifelong investment. Embark on your journey to own a private website for life.
Our private servers set the gold standard in security and performance, ensuring your website stays in top form. With our lifetime license, the days of fretting about hosting renewals are behind you.
Unlock your very own WebFi space granting you a perpetual haven for your projects, free from the burden of recurring payments. Your sole financial commitment? Domain annuities to your domain provider – nothing more!
Choose WebFi and own your digital future, secure, simple, and everlasting."LEARN MORE
---
WEBFI |🟢LIVE | TECH  | MAGAZINE | NEWS | CRYPTO&MARKET | LATINO|⛅WEATHER |☕ HURRICANE WATCH RADAR WATCH
X