Por Redacción PortalPortuario
@PortalPortuario
---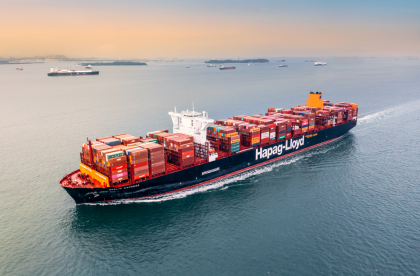 La naviera Hapag-Lloyd anunció un aumento de tarifas general (GRI) válido para los servicios que conecten Asia con América del Norte y Latinoamérica, lo que entrará en vigencia a partir del 1 de diciembre de 2023, sin tener fecha de culminación establecida.
De esta forma, se aplicará un GRI desde el este de Asia hacia América del Norte para carga transportada en contenedores secos, refrigerados y especiales de 20′ y 40′, incluidos equipos High Cube. Este GRI es aplicable a todos los recipientes de cargas cerrados en su totalidad.
Los aumentos serán de USD 800 para todos los tipos de contenedores de 20 pies y de USD 1.000 para aquellos de 40 pies. Lo tratado será fijado desde Japón, Corea del Sur, Taiwán, Hong Kong, China , Macao, Vietnam, Laos, Camboya, Tailandia, Myanmar, Malasia, Singapur, Brunei, Indonesia y Filipinas hacia Estados Unidos y Canadá.
En tanto, se implementará otro GRI desde Asia (excluyendo Japón) hacia la Costa Oeste de América Latina, México, Caribe y Centroamérica, para carga transportada en contenedores Dry de 20′ y 40′, incluyendo equipos High Cube y contenedores frigoríficos no operativos de 40′.
Los incrementos monetarios se reflejarán en alzas de USD 500 para contenedores 20′ Dry, mientras que será de USD 1.000 para aquellos 40′ Dry, 40′ High Cube Container y 40' Non-operative Reefer Container.
Lo anterior para carga movilizada desde China, Macao, Corea del Sur, Tailandia, Singapur, Vietnam, Camboya, Filipinas, Indonesia, Myanmar, Malasia, Laos, Brunei con rumbo a México, Ecuador, Colombia, Perú, Chile, El Salvador, Nicaragua, Costa Rica, República Dominicana, Puerto Rico, Jamaica, Honduras, Guatemala, Panamá y Venezuela.
---

The WEBFI algorithm actively curates and presents current news from the Internet, delivering it in both written and video formats on our platform. Unlike many other news sources, WEBFI Network - News Balance Security is committed to a user-friendly experience. We refrain from displaying advertising within our content, avoid any redirects to external sites, and meticulously filter out any graphic content deemed unsafe, sensitive, or private. Our primary goal is to provide visitors with a distraction-free and secure environment, ensuring they receive the news they seek.
Importantly, WEBFI Network does not collect any personal information from our visitors, and we do not engage in newsletter subscriptions. We take pride in remaining entirely advertiser-free, thanks to the support of our contributors and our dedicated hosting service partners. It's crucial to note that the opinions and content presented on our platform do not necessarily align with WEBFI NETWORK's opinion, philosophy, or vision. We strongly uphold the principle of freedom of speech, welcoming a diverse range of perspectives and ideas.
---
🌐 Discover News Balance 🇺🇲 - Your Round-the-Clock Source for Unbiased News!
Experience a continuous stream of comprehensive, unbiased news coverage 24/7/365 with News Balance 🇺🇲. Our carefully curated playlist ⏯ delivers a harmonious blend of national and global politics, cutting-edge tech updates, weather forecasts, noteworthy events, and captivating entertainment news.
The best part? No subscriptions, registrations, or downloads required. Enjoy an ad-free news experience with News Balance 🇺🇲.
 Since 2018
"Introducing Unstoppable Private WebFi Websites – Your Forever Digital Haven.
Experience a lifetime of ownership with WebFi – where your digital presence is a lifelong investment. Embark on your journey to own a private website for life.
Our private servers set the gold standard in security and performance, ensuring your website stays in top form. With our lifetime license, the days of fretting about hosting renewals are behind you.
Unlock your very own WebFi space granting you a perpetual haven for your projects, free from the burden of recurring payments. Your sole financial commitment? Domain annuities to your domain provider – nothing more!
Choose WebFi and own your digital future, secure, simple, and everlasting."LEARN MORE
---
WEBFI |🟢LIVE | TECH  | MAGAZINE | NEWS | CRYPTO&MARKET | LATINO|⛅WEATHER |☕ HURRICANE WATCH RADAR WATCH
X