Jimmy Buffett, the singer-songwriter who drew millions of fans with his folksy tales of living and loving on tropical sandy beaches, frozen concoction in hand, died Friday. He was 76.
"Jimmy passed away peacefully on the night of September 1st surrounded by his family, friends, music and dogs," a statement on his website said. "He lived his life like a song till the very last breath and will be missed beyond measure by so many."
The statement didn't say where Buffett died or provide a cause of death. Two sources familiar told NBC News that Buffett was battling cancer when he died. One of those sources said, "The family is broken, it all happened very suddenly."
The singer had rescheduled concerts in May, and Buffett said on social media that he had been hospitalized.
Buffett, who dubbed his brand of music "drunken Caribbean rock 'n' roll," is arguably best known for "Margaritaville," which was released in 1977 and launched him into national fame and into the history of American music.
The song went on to inspire a brand, which included restaurants and resorts, a radio station, clothing and apparel, as well as food and drink items like beer, tequila, salad dressings and salsa. It also helped make him a billionaire, with Forbes this month placing his real-time net worth at $1 billion.
But in an apparent nod to his business pursuits in the song "A Pirate Looks at Forty," Buffett sang that he "made enough money to buy Miami, but I pissed it away so fast. Never meant to last, never meant to last."  
Buffett was nominated for two Grammy Awards, for "Hey Good Lookin'" — a cover of the Hank Williams classic — and "It's Five O'Clock Somewhere," a duet with country superstar Alan Jackson.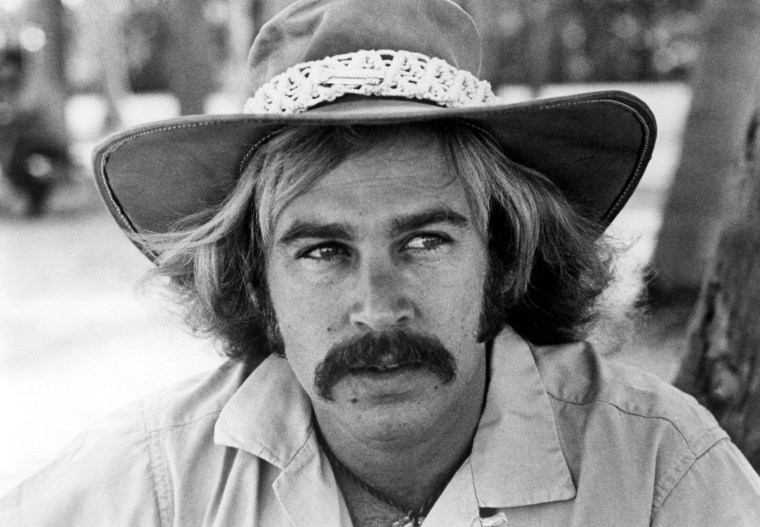 Elton John was among several stars to pay tribute to Buffett, calling him a "unique and treasured entertainer," in a post on Instagram Stories. "His fans adored him and he never let them down. This is the saddest of news, a lovely man gone way too soon," John wrote. 
Actor Miles Teller also posted several photos of him with the singer on X, formerly known as Twitter. Brian Wilson of the Beach Boys also took to X, where he wrote, "Love and Mercy, Jimmy Buffett."  
Fans, affectionately dubbed "Parrotheads," were also quick to pay tribute to the singer, who was born in Pascagoula, Mississippi, on Christmas Day 1946. He was brought up mainly in Mobile, Alabama.
Many cited "One Particular Harbor" when remembering the singer: "But there's one particular harbor/ So far yet so near/ Where I see the days as they fade away/ And finally disappear."
After learning guitar at college — he attended Alabama's Auburn University before graduating from the University of Southern Mississippi — he began busking on the streets of New Orleans before going on to form his first band.
He later moved to Nashville, Tennessee, to work for Billboard Magazine and try his luck as a singer, the biography says. But it was in Key West, Florida, in the 1970s, that Buffett "found his true voice," according to his website.
Fellow country singer Jerry Jeff Walker first let him stay at his Coconut Grove home, and then they drove in a 1947 Packard to Key West, he told graduating students at the University of Miami, where he received an honorary doctorate in music in May 2015.
"Needless to say, my life took a big and wonderful change towards South Florida, which has a lot to do with why I'm standing here today," he said, while wearing flip-flops below the academic robes.
Touring and recording with the Coral Reefer Band, he would go on to make 27 studio albums — four went platinum and eight gold — in a career that spanned more than five decades.
Unstoppable Private Websites – Ownership for lifetime. Live News Magazine. Own a private website for life with WebFi. Our private servers offer the best in security and performance,and our lifetime license means you'll never have to worry about renewing your hosting again.
Get your own Webfi space to host your website for a single donation that allows you to host your project for life without the need for recurring payments, You only pay for your domain annuities to your domain provider and that's it! LEARN MORE
⚖News Balance🇺🇲
The WEBFI algorithm collects the active news on the Internet and temporarily exposes it on this platform, both in written and video format. WEBFI Network - News Balance Security, does not show advertising in its contents, does not redirect to other sites, and filters any graphic content evaluated as insecure, sensitive, or private. In this way, we ensure that all visitors are informed without distraction and safely. The opinions and content issued on this platform do not necessarily reflect the opinion, philosophy, or vision of WEBFINET. We strongly believe in freedom of speech.
WEBFI ⚖News Balance🇺🇲 is publishing 24/7/365, Our playlist⏯ compacts a fully balanced news program with a broad look at national USA and World politics, tech, weather, events, and entertainment news. No subscription, registration, or download is needed. Ad-Free.

WEBFI Unstoppable Websites
 Since 2018 WEBFI
---