While some opera companies are re-imagining Puccini with VR headsets and 1950s film studios, Madison Opera chose to open its 2023-24 season with a tried-and-true traditional "Tosca."
With grandiose set pieces meant to evoke a storybook version of 1800 Rome and soaring Italian lyrics about epic love "like blazing rainbows," "Tosca" is a perennial crowd-pleaser. Tenor Limmie Pulliam's opulent arias may sound familiar, even to first-time opera goers. Soprano Michelle Johnson sweeps onto the stage like an avenging angel, cape swirling.
With Craig Irvin as the devilish baritone and a brief yet substantial hymn for the chorus, the whole thing makes for an entertaining three or so hours. Madison Opera stages "Tosca" once more in Overture Hall on Sunday.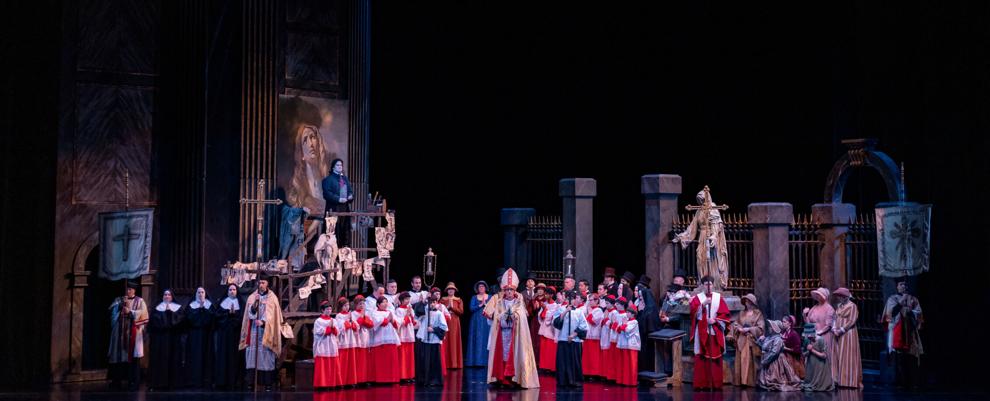 "Tosca," based on an 1887 Sarah Bernhardt vehicle by playwright Victorien, isn't so much a love triangle as the story of two fiery artists who get caught up in political unrest and the scheming of a cartoonish villain.
Act I opens in a Roman cathedral and features a guest appearance by the pope himself. Fêted diva Floria Tosca (Johnson, resplendent in her third time in the role) fights a wicked jealous streak when she visits her painter boyfriend, Cavaradossi (Pulliam), even though he's acting suspicious.
Cavaradossi is hiding an old friend and recently escaped political prisoner. The guy's name, Angelotti, sounds like a pasta, though Alex Soare sings his bit wonderfully well.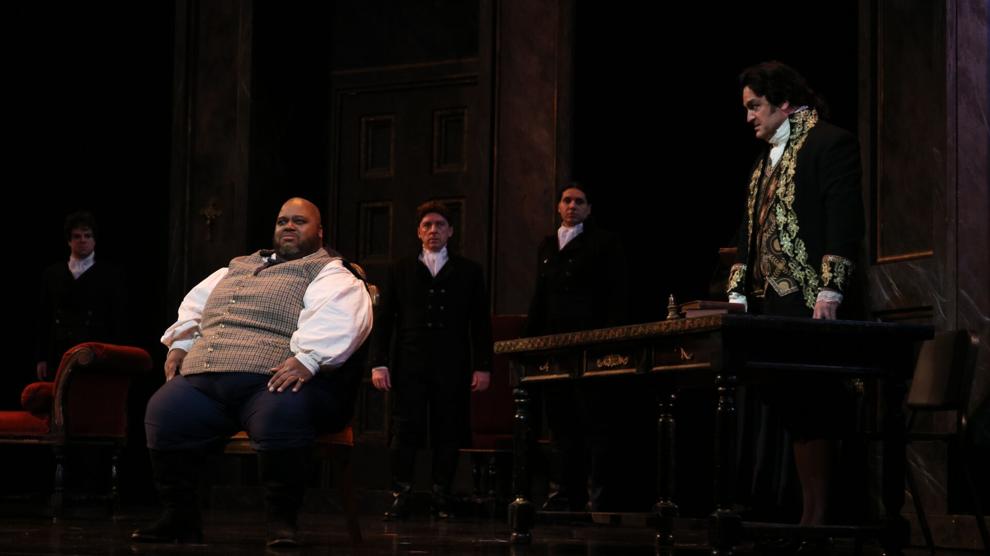 Irvin's Scarpia stomps in on a hunt for the prisoner, but when he spies Tosca, he quickly changes tack. Can he get the mercurial diva to lead him to the mark and get a little "violent conquest" for himself along the way? We can almost see Scarpia's fingers drumming together in dastardly anticipation.
As Tosca, Johnson clearly enjoys the light comic teasing of her lover in "Non la sospiri la nostra casetta" ("Don't you long for our little cottage"). She has dramatic chops too, highlighted in a pleading, gorgeous "Vissi d'arte"( "I live for art").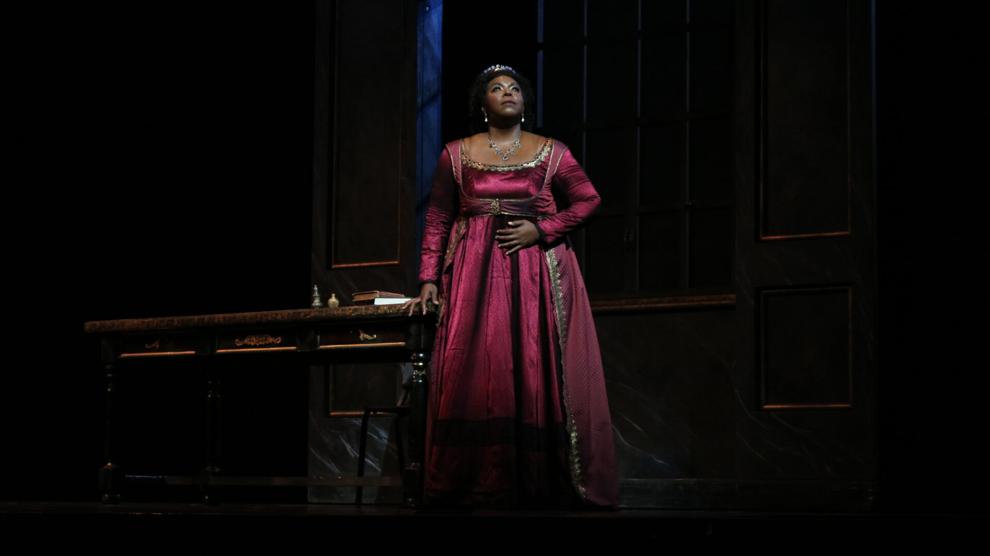 Grinning like the Cheshire cat with Inspector Javert's ponytail, Irvin embraces Scarpia's over-the-top badness. "Bramo!" he cries ("I lust!"), sipping on cranberry juice in a goblet as he strides the stage. It's delightful. If director Frances Rabalais gave melodrama as the brief, Irvin understood the assignment.
Pulliam's standout moment is no less spine-tingling for being expected. "E lucevan le stelle" ("How the stars used to shine") is iconic and Pulliam proves why, with a lush, romantic rendition of the aria.  
Under the baton of maestro John DeMain, Puccini's score could not sound more theatrical, cinematic in its highs and lows. Pulliam and Johnson match DeMain's romantic energy in duet after duet. When Scarpia first comes on the scene, the smash chord from the orchestra could fill Camp Randall.
Madison Opera averages "Tosca" once a decade, with this being its sixth. Opening night had a few wobbly bits, like a rocking Virgin Mary statue and one ponderously slow entrance, which after two acts and two intermissions felt even longer than it was.
Yet "Tosca" looks pretty good in 2023, with flattering costumes by Utah Opera's Susan Memmott Allred and intense, deliberate lighting design by Christina Watanabe.
When Tosca grabs a knife and turns it on Scarpia, she turns her story into the rare tragedy that doesn't feel that tragic, even with a considerable body count. Tried and true takes commitment too. This production makes a tradtional "Tosca" sing.
Lindsay Christians is the food editor and arts writer for the Cap Times. She has a master's degree in theatre research from UW-Madison and is a member of the American Theatre Critics Association. 
To support Lindsay's journalism, click here to become a Cap Times member. To respond to this story, click here to submit a letter to the editor. 

The WEBFI algorithm actively curates and presents current news from the Internet, delivering it in both written and video formats on our platform. Unlike many other news sources, WEBFI Network - News Balance Security is committed to a user-friendly experience. We refrain from displaying advertising within our content, avoid any redirects to external sites, and meticulously filter out any graphic content deemed unsafe, sensitive, or private. Our primary goal is to provide visitors with a distraction-free and secure environment, ensuring they receive the news they seek.
Importantly, WEBFI Network does not collect any personal information from our visitors, and we do not engage in newsletter subscriptions. We take pride in remaining entirely advertiser-free, thanks to the support of our contributors and our dedicated hosting service partners. It's crucial to note that the opinions and content presented on our platform do not necessarily align with WEBFI NETWORK's opinion, philosophy, or vision. We strongly uphold the principle of freedom of speech, welcoming a diverse range of perspectives and ideas.
---
🌐 Discover News Balance 🇺🇲 - Your Round-the-Clock Source for Unbiased News!
Experience a continuous stream of comprehensive, unbiased news coverage 24/7/365 with News Balance 🇺🇲. Our carefully curated playlist ⏯ delivers a harmonious blend of national and global politics, cutting-edge tech updates, weather forecasts, noteworthy events, and captivating entertainment news.
The best part? No subscriptions, registrations, or downloads required. Enjoy an ad-free news experience with News Balance 🇺🇲.
 Since 2018
"Introducing Unstoppable Private WebFi Websites – Your Forever Digital Haven.
Experience a lifetime of ownership with WebFi – where your digital presence is a lifelong investment. Embark on your journey to own a private website for life.
Our private servers set the gold standard in security and performance, ensuring your website stays in top form. With our lifetime license, the days of fretting about hosting renewals are behind you.
Unlock your very own WebFi space granting you a perpetual haven for your projects, free from the burden of recurring payments. Your sole financial commitment? Domain annuities to your domain provider – nothing more!
Choose WebFi and own your digital future, secure, simple, and everlasting."LEARN MORE
---
WEBFI |🟢LIVE | TECH  | MAGAZINE | NEWS | CRYPTO&MARKET | LATINO|⛅WEATHER |☕ HURRICANE WATCH RADAR WATCH
X