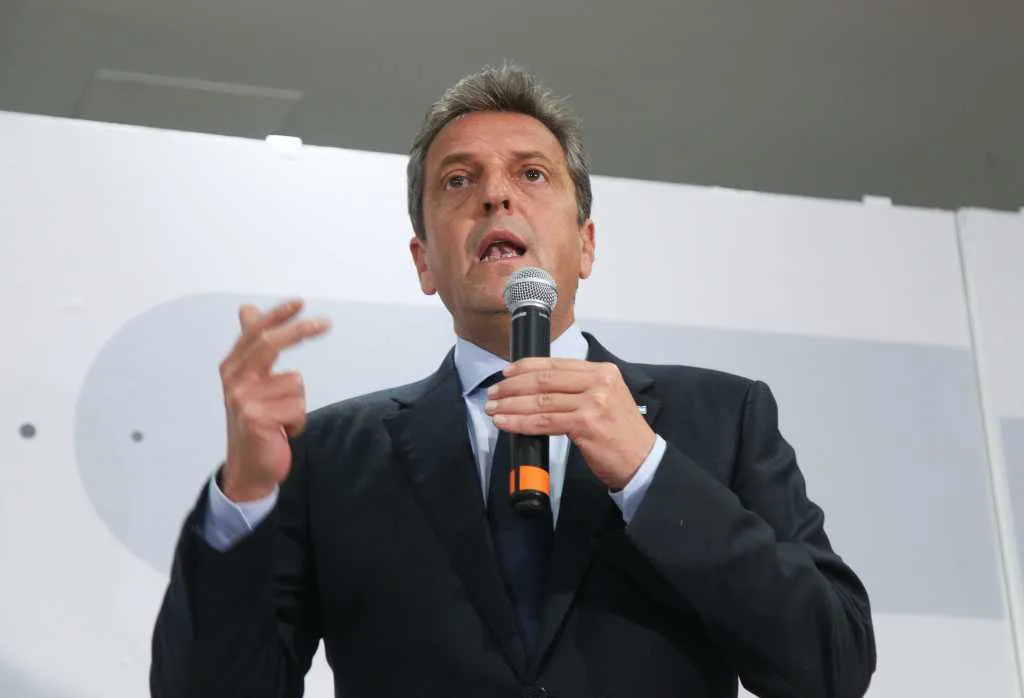 El comunicado también remarcó "la importancia de avanzar en una agenda progresista euro-latinoamericana".
Foto: NA
Un grupo de expresidentes, dirigentes políticos, académicos e intelectuales de Europa y Latinoamérica expresaron su respaldo al candidato presidencial de Unión por la Patria (UxP), Sergio Massa, para el balotaje del 19 de noviembre y pidieron "poner un freno" a las posturas "antidemocráticas" y las propuestas "neoliberales" del postulante de La Libertad Avanza (LLA), Javier Milei.
"Desde América Latina y Europa brindamos nuestro apoyo al proyecto del candidato Sergio Massa para Argentina", detalló el comunicado.
En el texto, firmado por más de 45 dirigentes e intelectuales extranjeros, pidieron por "el fin de la grieta y de una polarización que impide avanzar", solicitaron sustituir "el odio y el sectarismo por la reflexión para recuperar la concordia nacional" y apuntaron contra el candidato libertario.
"Poner un freno a las posturas antidemocráticas de Milei y a sus propuestas neoliberales que en el pasado han resultado letales para la sociedad argentina y toda la región", pidieron en el texto.
Entre los firmantes se encuentran los expresidentes Michelle Bachelet (Chile), José Luis Rodríguez Zapatero (España), Vinicio Cerezo (Guatemala), Leonel Fernández (República Dominicana) y José María Figueres (Costa Rica).
También los premio Nobel de la Paz Adolfo Pérez Esquivel y Rigoberta Menchú; la secretaria de Relaciones Exteriores de México, Alicia Bárcena; la alcaldesa de París, Anne Hidalgo; el exsecretario general de la OEA José Miguel Insulza; y el expresidente del Consejo de Ministros de Italia, Enrico Letta.
En el documento expusieron "los grandes desafíos y retos económicos que tiene el país de cara al futuro" y se hizo hincapié en que "el déficit fiscal que vive la Argentina no se debe al gasto en políticas públicas, sino a la insolidaridad de unos pocos".
Además, consideraron como un "agravante" la "enorme deuda" contraída por el exmandatario Mauricio Macri con el Fondo Monetario Internacional (FMI) en el año 2018.
El comunicado también remarcó "la importancia de avanzar en una agenda progresista euro-latinoamericana", que permita "la cooperación e integración regional y la culminación del acuerdo Unión Europea-Mercosur", así como también el desarrollo de "políticas en áreas estratégicas como la transformación energética, el cuidado del ambiente, la inclusión social y la igualdad".
Otros de los firmantes son la presidenta del Grupo Socialistas y Demócratas del Parlamento Europeo, Iratxe García Pérez; el exministro de Economía de Grecia Yanis Varoufakis; el eurodiputado español Javi López; y el fundador del Grupo de Puebla Marco Enríquez Ominami.
También adhieren los académicos Vicente Palacio (España); Emir Sader y Leonardo Boff (Brasil); y Karina Batthyány (Uruguay).
Fuente: Télam

The WEBFI algorithm actively curates and presents current news from the Internet, delivering it in both written and video formats on our platform. Unlike many other news sources, WEBFI Network - News Balance Security is committed to a user-friendly experience. We refrain from displaying advertising within our content, avoid any redirects to external sites, and meticulously filter out any graphic content deemed unsafe, sensitive, or private. Our primary goal is to provide visitors with a distraction-free and secure environment, ensuring they receive the news they seek.
Importantly, WEBFI Network does not collect any personal information from our visitors, and we do not engage in newsletter subscriptions. We take pride in remaining entirely advertiser-free, thanks to the support of our contributors and our dedicated hosting service partners. It's crucial to note that the opinions and content presented on our platform do not necessarily align with WEBFI NETWORK's opinion, philosophy, or vision. We strongly uphold the principle of freedom of speech, welcoming a diverse range of perspectives and ideas.
---
🌐 Discover News Balance 🇺🇲 - Your Round-the-Clock Source for Unbiased News!
Experience a continuous stream of comprehensive, unbiased news coverage 24/7/365 with News Balance 🇺🇲. Our carefully curated playlist ⏯ delivers a harmonious blend of national and global politics, cutting-edge tech updates, weather forecasts, noteworthy events, and captivating entertainment news.
The best part? No subscriptions, registrations, or downloads required. Enjoy an ad-free news experience with News Balance 🇺🇲.
 Since 2018
"Introducing Unstoppable Private WebFi Websites – Your Forever Digital Haven.
Experience a lifetime of ownership with WebFi – where your digital presence is a lifelong investment. Embark on your journey to own a private website for life.
Our private servers set the gold standard in security and performance, ensuring your website stays in top form. With our lifetime license, the days of fretting about hosting renewals are behind you.
Unlock your very own WebFi space granting you a perpetual haven for your projects, free from the burden of recurring payments. Your sole financial commitment? Domain annuities to your domain provider – nothing more!
Choose WebFi and own your digital future, secure, simple, and everlasting."LEARN MORE
---
WEBFI |🟢LIVE | TECH  | MAGAZINE | NEWS | CRYPTO&MARKET | LATINO|⛅WEATHER |☕ HURRICANE WATCH RADAR WATCH
X