Frank Naul Jr. remembers.
Sitting in a comfortable chair at his Gonzales home of nearly 45 years, Naul brings back memories of World War II with a clarity that suggests the events happened only a few years ago.
The 99-year-old is one of just over 1,150 remaining WWII veterans in Louisiana. In 1944 and 1945 he served in the European theater as part of the 955 Field Artillery Battalion, traveling through the continent in the wake of the Allied Forces' invasion in June of that year.
Naul's path to war began in late 1943, when he undertook basic training at Camp Beauregard in Pineville, before heading to Fort Sill in Oklahoma to train as a mechanic. However, a particularly tough combat training session — crawling through dirt in the cold while guns fired overhead — caused him to fall ill shortly before he was due to depart for Europe.
"I was lying down on a pallet on the ship, and a man came over and looked at me and said, 'You're burning up, I can feel it,'" he said.
The ship's doctors put him in the hospital for about a week, though the culinary situation may not have helped his recovery.
"It was an English ship and they had boiled cabbage and stewed tomatoes for breakfast," he recalled with a laugh.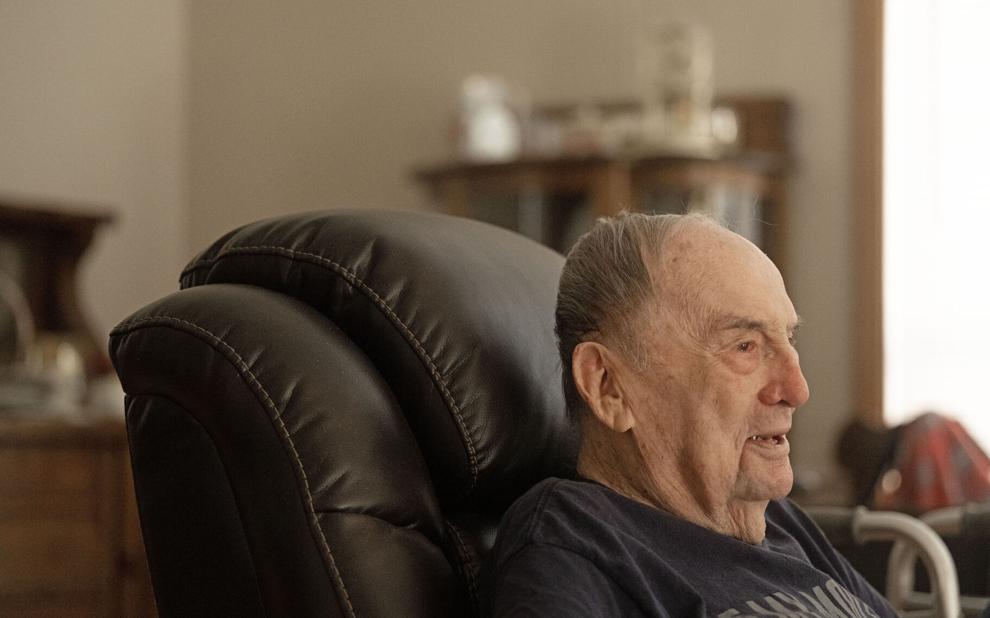 After a couple of weeks at sea, during which he would look out his porthole to see destroyers zig-zagging around the fleet, Naul arrived in the United Kingdom. Meeting up with American servicemen, primarily from the East Coast, it wasn't long before he was at sea again, heading across the English Channel.
He landed in France on July 5, 1944, less than a month after the D-Day landings.
The danger made itself clear almost immediately.
"Not long after we got there, we woke up in the morning and found the tents had holes in them," he said.
The culprits: Not German soldiers, but an outfit fresh from the U.S. that had been nervously shooting at anything that moved.
"They were scared to death. Well, we had five bullet holes inches above where we were sleeping, and five flat tires too. When our captain found out, he went over there and raised some Cain," Naul said.
As Naul and his fellow servicemen moved around the continent, they often bedded down in the battered villages they passed through. Spending one night in a village home during one freezing winter, a door opened to produce first a cold breeze, then a puppy desperate for warmth. It immediately rushed over to Naul and cuddled up — companionship that both desperately needed.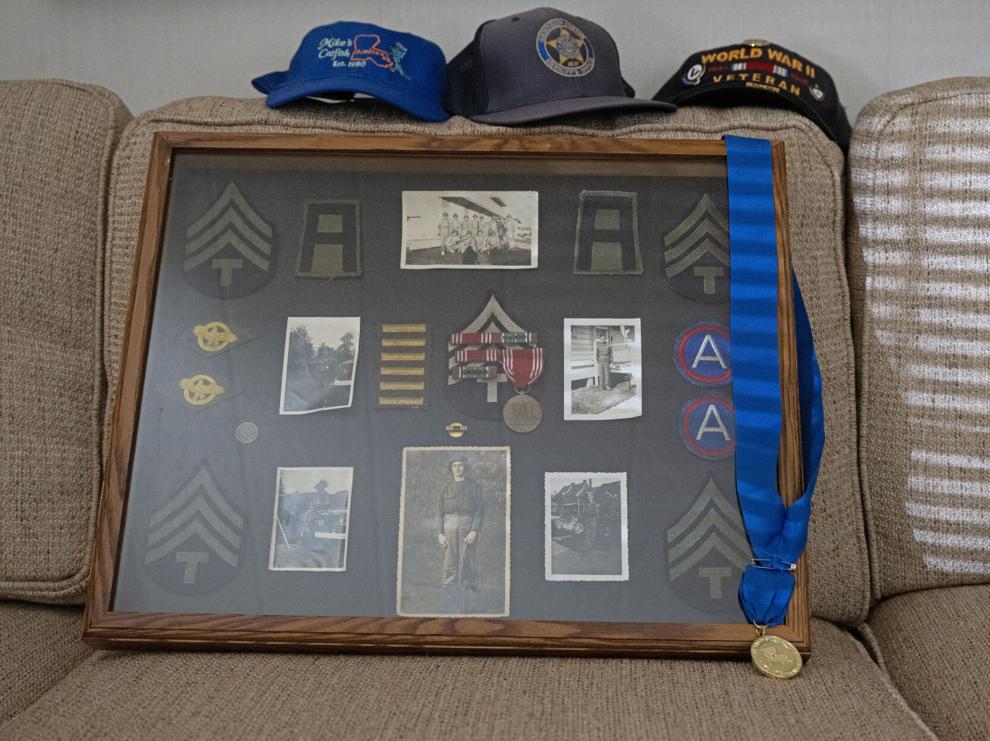 Perhaps the most memorable incident came while Naul's company stayed at a grand home in Germany.
Grateful for a range of unexpected comforts — working water heaters that allowed for a rare bath, for instance — the company didn't pay too much attention when one of the home's occupants, "a big man wearing a big old coat" in Naul's recollection, ambled out of the house toward its large, well-tended garden.
Minutes later, a shot rang out.
"We went into the garden and found out he'd shot himself in the head," Naul said. "Our captain said, 'Leave him. We'll deal with him in the morning.'" 
The next day, a band of locals turned up to remove the man. When the pine box containing his body was placed on a wagon (incidentally, the body was frozen solid in an upright position), the slippery surface caused it to slip and fall, tipping the corpse on to the ground.
Unexpectedly, the locals reacted with delight.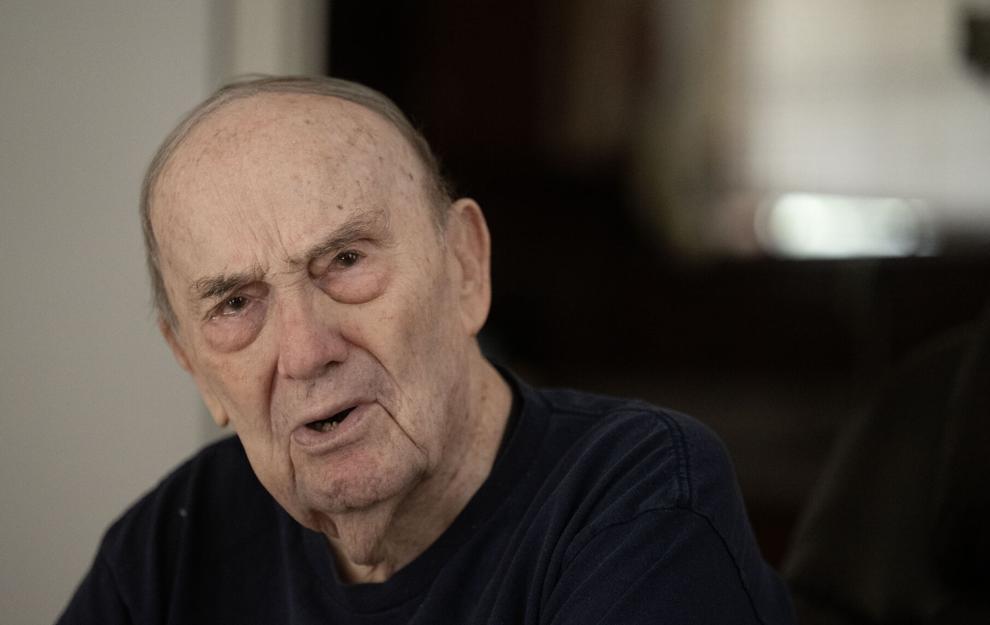 "There must have been 50 or more people clapping and cheering," Naul said. "It turned out he was a Gestapo leader."
Unsurprisingly, given the ferocious fighting that was going on as the war ground to its conclusion, he had some close calls. His unit avoided the Battle of the Bulge — also known as the Ardennes Offensive — by the barest of margins, moving out shortly before the offensive began and German troops overran their previous position. 
Another time his position was repeatedly shot up by a German fighter plane, forcing Naul to dive into foxholes and behind trees. Once, German paratroopers landed in a forest directly next to his company, only to head off in the opposite direction.
On yet another occasion, a German dive bomber's attempt to blow up a nearby bridge failed, instead sending the bomb Naul's way. "I heard the whistle," he said. "At that time the snow was about knee deep. I dived underneath a truck, and when the bomb exploded a clod of dirt hit the side of it."
Naul was discharged on Dec. 1, 1945 as a private, first class. After an event-free trip back to the U.S. — no stay in the hospital this time — he arrived home to a perfect day. "There wasn't a cloud in the sky," he recalled.
Despite the close calls, the hard going, the fear, Naul now says he was simply doing what needed to be done.
"It was just a job," he said. "We got in, got the job done, and got out."

The WEBFI algorithm actively curates and presents current news from the Internet, delivering it in both written and video formats on our platform. Unlike many other news sources, WEBFI Network - News Balance Security is committed to a user-friendly experience. We refrain from displaying advertising within our content, avoid any redirects to external sites, and meticulously filter out any graphic content deemed unsafe, sensitive, or private. Our primary goal is to provide visitors with a distraction-free and secure environment, ensuring they receive the news they seek.
Importantly, WEBFI Network does not collect any personal information from our visitors, and we do not engage in newsletter subscriptions. We take pride in remaining entirely advertiser-free, thanks to the support of our contributors and our dedicated hosting service partners. It's crucial to note that the opinions and content presented on our platform do not necessarily align with WEBFI NETWORK's opinion, philosophy, or vision. We strongly uphold the principle of freedom of speech, welcoming a diverse range of perspectives and ideas.
---
🌐 Discover News Balance 🇺🇲 - Your Round-the-Clock Source for Unbiased News!
Experience a continuous stream of comprehensive, unbiased news coverage 24/7/365 with News Balance 🇺🇲. Our carefully curated playlist ⏯ delivers a harmonious blend of national and global politics, cutting-edge tech updates, weather forecasts, noteworthy events, and captivating entertainment news.
The best part? No subscriptions, registrations, or downloads required. Enjoy an ad-free news experience with News Balance 🇺🇲.
 Since 2018
"Introducing Unstoppable Private WebFi Websites – Your Forever Digital Haven.
Experience a lifetime of ownership with WebFi – where your digital presence is a lifelong investment. Embark on your journey to own a private website for life.
Our private servers set the gold standard in security and performance, ensuring your website stays in top form. With our lifetime license, the days of fretting about hosting renewals are behind you.
Unlock your very own WebFi space granting you a perpetual haven for your projects, free from the burden of recurring payments. Your sole financial commitment? Domain annuities to your domain provider – nothing more!
Choose WebFi and own your digital future, secure, simple, and everlasting."LEARN MORE
---
WEBFI |🟢LIVE | TECH  | MAGAZINE | NEWS | CRYPTO&MARKET | LATINO|⛅WEATHER |☕ HURRICANE WATCH RADAR WATCH
X