ULAANBAATAR, Mongolia — Under the towering statue of 13th-century warrior Genghis Khan, Pope Francis was not greeted by hordes of people in Mongolia's capital Ulaanbaatar on Saturday.
Rather than the throngs of thousands he's used to, about 200 of the faithful from one of the world's smallest and newest Catholic communities enthusiastically greeted the pontiff in the city's central Sükhbaatar Square, where he sat with Mongolia's President Ukhnaagiin Khürelsükh.
"Viva il Papa" the small but enthusiastic crowd chanted, some of who waved Mongolian and Vatican flags as guards dressed in traditional blue, red and yellow attire stood nearby.
"It's a blessing, we are very happy to see him in Mongolia, we never thought he would come here," Ming Baldorg, 33, told NBC News. "We are all surprised. We are shocked but very happy."
Yang Guang, 37, a Chinese Catholic living in Ulaanbaatar, said he hoped Francis would visit his homeland one day. "I believe one day it will happen, we must trust the Lord," he said.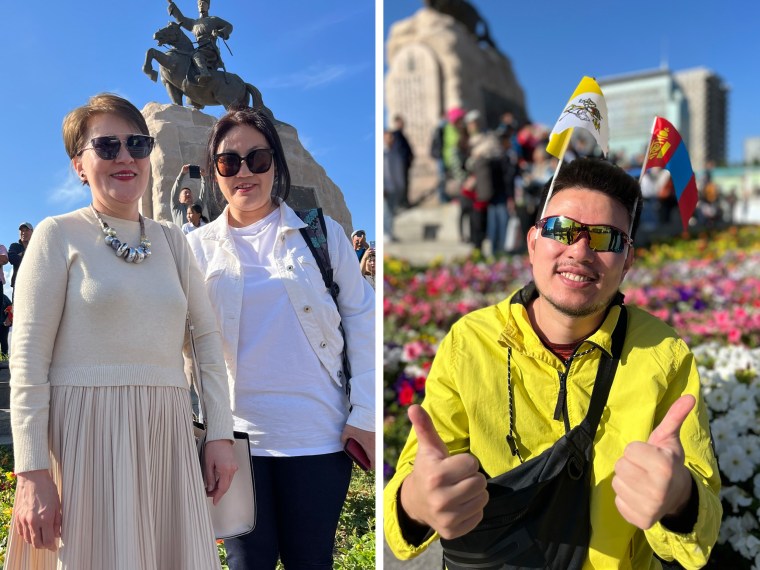 Later in a speech at Ulaanbaatar's Cathedral of Saints Peter and Paul, Francis talked about the roots of Catholicism in Mongolia, where the church has had a presence for centuries. But Catholicism was sanctioned only after the country abandoned its Soviet-allied communist government 1992. As a result, the Catholic community numbers only about 1,500 people.
"The events of the first millennium and the work of evangelization carried out by missionaries of Syriac tradition along the Silk Road were followed by a remarkable missionary outreach," he said, before asking, "How can we fail to mention the diplomatic missions of the 13th century?"
Francis delivered his remarks to the president, diplomats and cultural leaders at the state palace, where he praised Mongolia's tradition of religious freedom, noting that such tolerance existed both before and during the expansion of the Mongol Empire over vast swaths of the world. 
"The fact that the empire could embrace such distant and varied lands over the centuries bears witness to the remarkable ability of your ancestors to acknowledge the outstanding qualities of the peoples present in its immense territory and to put those qualities at the service of a common development," Francis said, according to The Associated Press. "This model should be valued and re-proposed in our own day," he said.
Lamenting an "earth devastated by countless conflicts" and calling for a renewal of respect for international law, the pontiff also referred to "Pax Mongolica," Latin for Mongol peace, a period of relative stability over Eurasia during the 13th and 14th centuries among those living in the Mongol Empire's conquered territories.
While Catholicism has been legal in Mongolia since the end of Soviet rule in 1992, Francis hopes to come to a bilateral agreement with the government that would lift continuing restrictions on worshipper numbers and end the treatment of the church as a nongovernmental organization, a thorn in the side of foreign missionaries working in the region.  
Unstoppable Private Websites – Ownership for lifetime. Live News Magazine. Own a private website for life with WebFi. Our private servers offer the best in security and performance,and our lifetime license means you'll never have to worry about renewing your hosting again.
Get your own Webfi space to host your website for a single donation that allows you to host your project for life without the need for recurring payments, You only pay for your domain annuities to your domain provider and that's it! LEARN MORE
⚖News Balance🇺🇲
The WEBFI algorithm collects the active news on the Internet and temporarily exposes it on this platform, both in written and video format. WEBFI Network - News Balance Security, does not show advertising in its contents, does not redirect to other sites, and filters any graphic content evaluated as insecure, sensitive, or private. In this way, we ensure that all visitors are informed without distraction and safely. The opinions and content issued on this platform do not necessarily reflect the opinion, philosophy, or vision of WEBFINET. We strongly believe in freedom of speech.
---