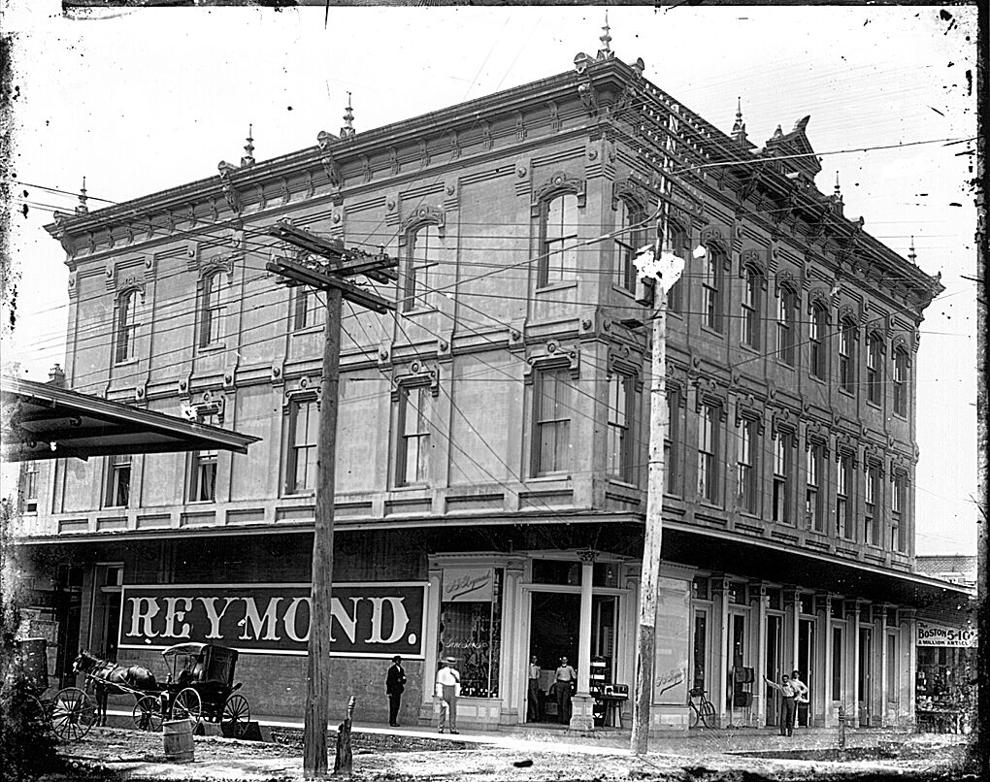 The Baton Rouge story of Reymond's Department Store is bigger than its selection of purple and gold ribbon, though that's the part of the story most important to LSU fans.
Why? Because that's the place where LSU chemistry professor Charles E. Coates and football captain Ruffin G. Pleasant went in search of blue and white ribbon for the Tigers' first-ever football game and walked out with armloads of purple and gold instead.
That was in 1893, when Reymond's stood on the southwest corner of Main and Third streets in in downtown Baton Rouge.
But then it moved to the corner of downtown's Third and Florida streets, and history was made. Well, state history, anyway, because Reymond's the was the first department store in Louisiana to install a soda fountain and a candy counter.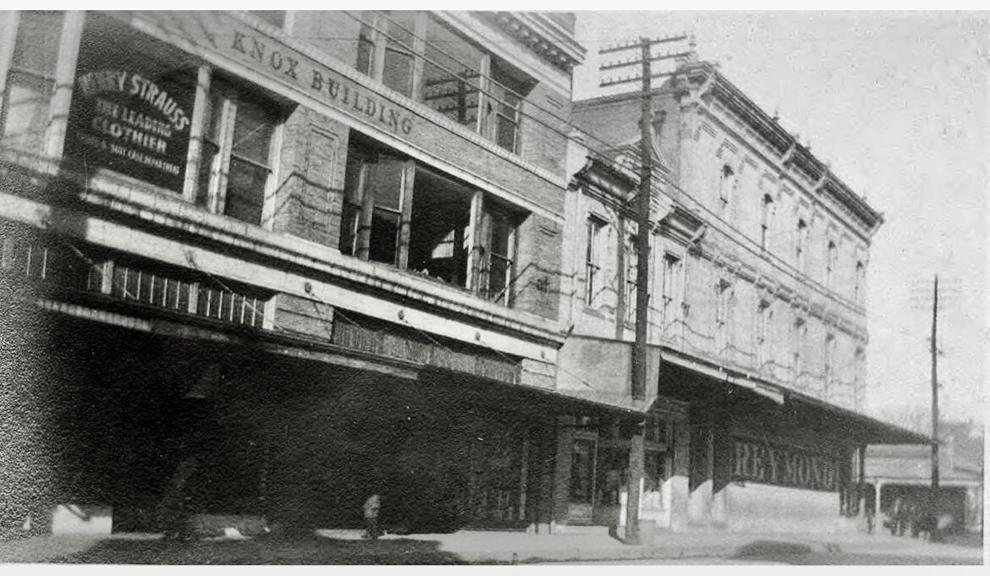 Yes, Reymond's was the sweet treats pioneer even before New Orleans' Maison Blanche.    
That happened almost a century ago in 1926. But that's jumping a little too far ahead in Reymond's story, which began in the 1880s when Swiss immigrant S.I Reymond opened his store on that corner of Main and Third streets.
"Reymond's originally opened in the Fisher Building," said local historical John Sykes, who is developing a historical walking tour of downtown Baton Rouge. 
The building was named for John D. Fisher, who, according to the Downtown Development District, purchased the two-story corner building in an 1811 sheriff's sale for $8,073. The structure was occupied at the time by the B. Fiebelman Co. store, which eventually moved out.
Why? The Downtown Development District citing the July 1984 "Architectural and Historical Survey of Downtown Baton Rouge," doesn't say, but it does acknowledge that a third story was added under Fisher's ownership.
"A description mentions that the building is occupied by the S.I. Reymond Company, Ltd. There is no indication that Samuel Reymond constructed the building," the district states, again referencing the survey.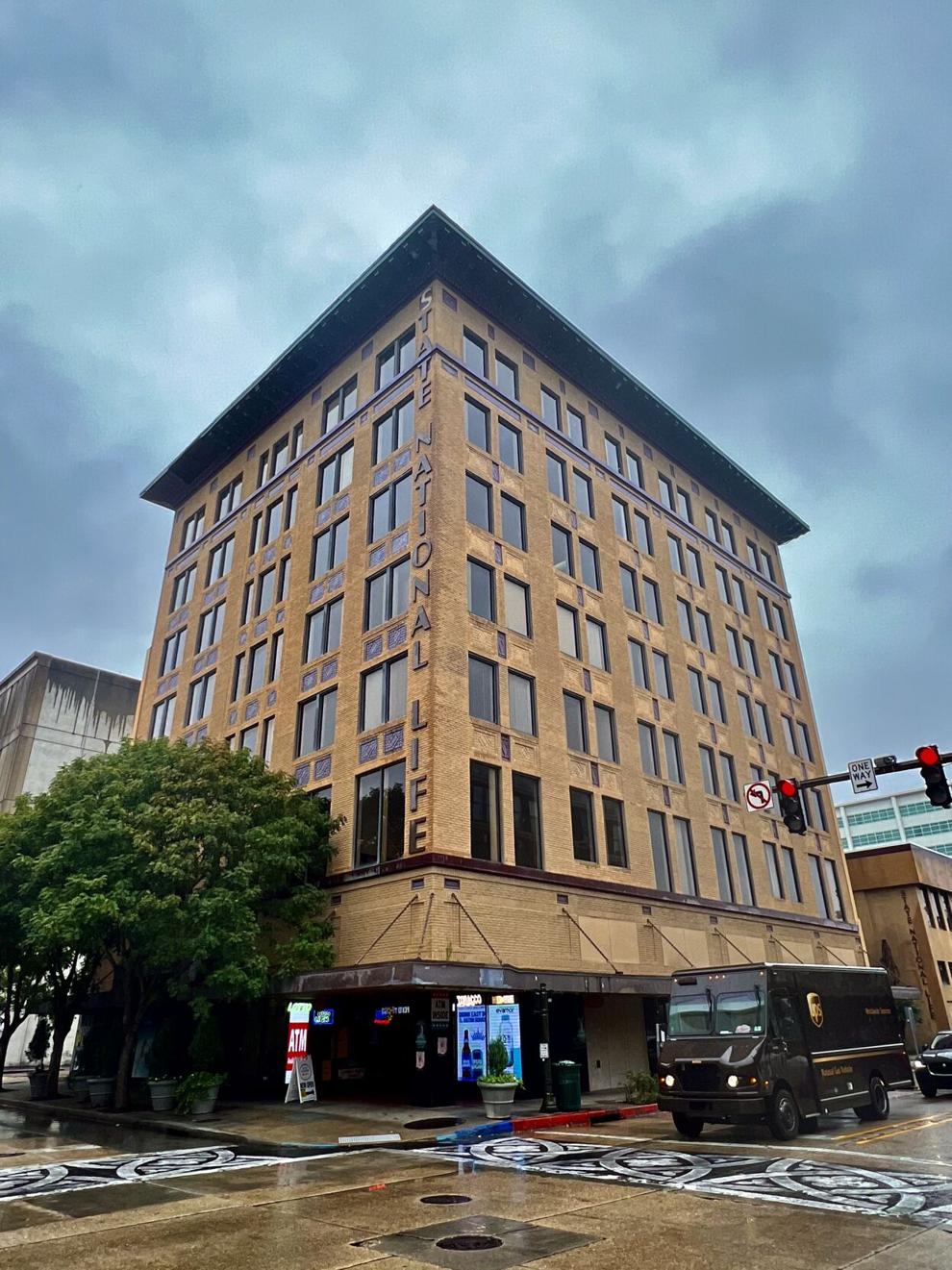 "The building was leased to Reymond's," Sykes said.
The location now is home to The Little Village restaurant. Reymond's stocked a variety of items according to the store's early advertisements in The Advocate and LSU's Daily Reveille, which tout Knox Hats, Lion Brand Shirts and collars, Knotair Hosiery, Schloss Bros.' Clothing and Headlight Overalls. For LSU Cadets, Reymond's promised "the cheapest, most reliable stock in shoes, hats, collars, cuffs and underwear."
That's not forgetting its spools of purple and gold ribbon. Coates and Pleasant bought the entire stock of it in 1893 when looking for school colors to represent LSU's newly formed football team.
To summarize Coates' account of the story, LSU President David Boyd thought the Tigers should wear blue and white, but Reymond's had ordered purple, green and gold ribbon in anticipation of Mardi Gras in the coming months. The only problem was, only the purple and gold ribbon arrived, which is why on Nov. 11 Jayden Daniels wasn't setting FBS records against the University of Florida in a blue and white jersey.
"LSU was at its downtown campus at the time on what's now the capitol grounds, so Reymond's would have been the closest department store," Sykes said. "It would have been easy for them to walk there."
S.I. Reymond already owned what was called the Reymond Building on Third Street, according to Sykes.
"He opened it in 1902. He built it for investment. It had retail space on the first floor and offices, but the store wasn't in it," Sykes said.
The store's new home, known to locals as the "New Reymond's Building" opened at 263 Third St., in 1916, claiming the corner spot on Third and Florida streets.
"The original building design was for seven stories," Sykes said. "There were only three in 1916, and four were added in 1921. It was completed in June 1922, and from 1922 to 1925, it was the city's tallest building."
Then came 1926, when the Louisiana National Bank Building — now the Watermark Hotel — surpassed it with 12 stories. But being the tallest wasn't as important to S.I Reymond as offering customers things they couldn't find elsewhere such as a soda fountain and candy counter.
"The soda fountain also offered curbside service, which was also a first in the state," Sykes said.
And while New Orleans' Roosevelt Hotel was offering haircuts to men in its barbershop, Reymond's was one-upping the hotel by opening a women's beauty parlor in 1927.
"We don't know if Reymond's was the first store that had a beauty parlor, but we do know it was added, as well as a cafeteria," Sykes said. "The store also added a large, two-story extension."
With the extension, Reymond's occupied most of the block between Third and Lafayette streets.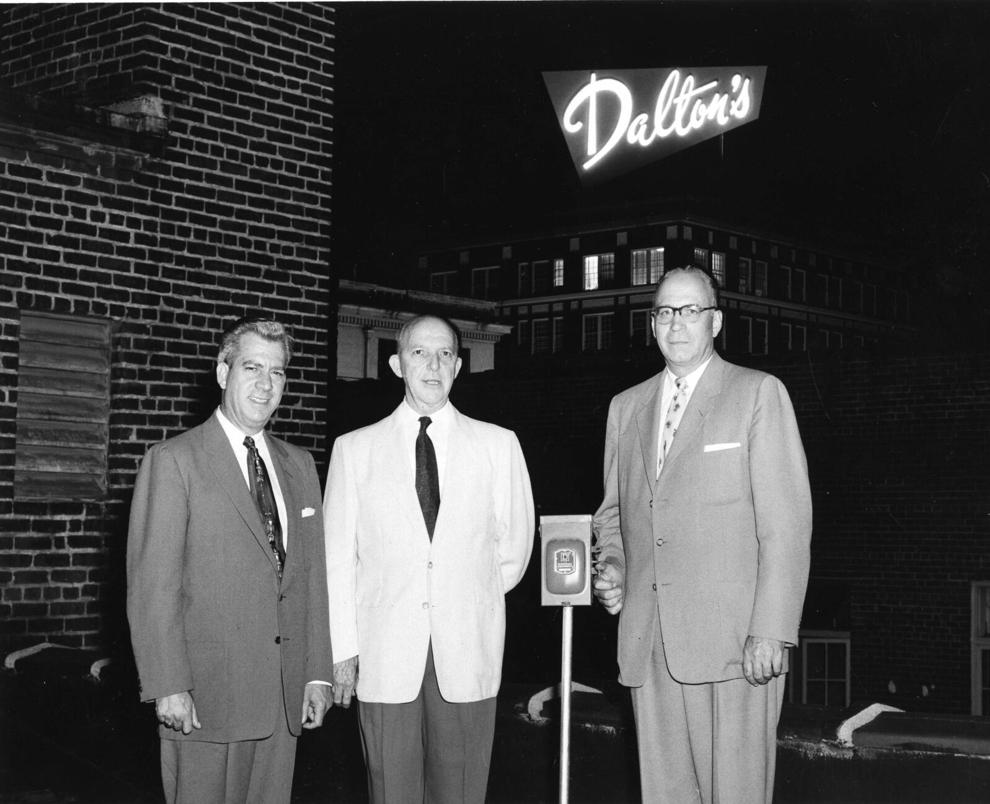 But even Reymond's wasn't meant to last forever.
"The store was refinanced in 1929, and S.I. Reymond's son, Dalton, was named president," Sykes said. "The store was already feeling the financial strains of the impending stock market crash of 1929, especially after adding the extensions. So, it was reorganized under the name Dalton's."
Dalton Reymond resigned his position shortly afterward for a screenwriter career in Hollywood. He served as an advisor on film sets and wrote novels, his most notable titled "Earthbound," about a Louisiana sugar cane farm.
Until recently, passersby could still see remnants of Dalton's etched into the tile of what would have been the store's Lafayette Street entrance. The doorway has since served as an entryway for bars and restaurants, but the cursive "Dalton's" welcoming visitors has been scraped away.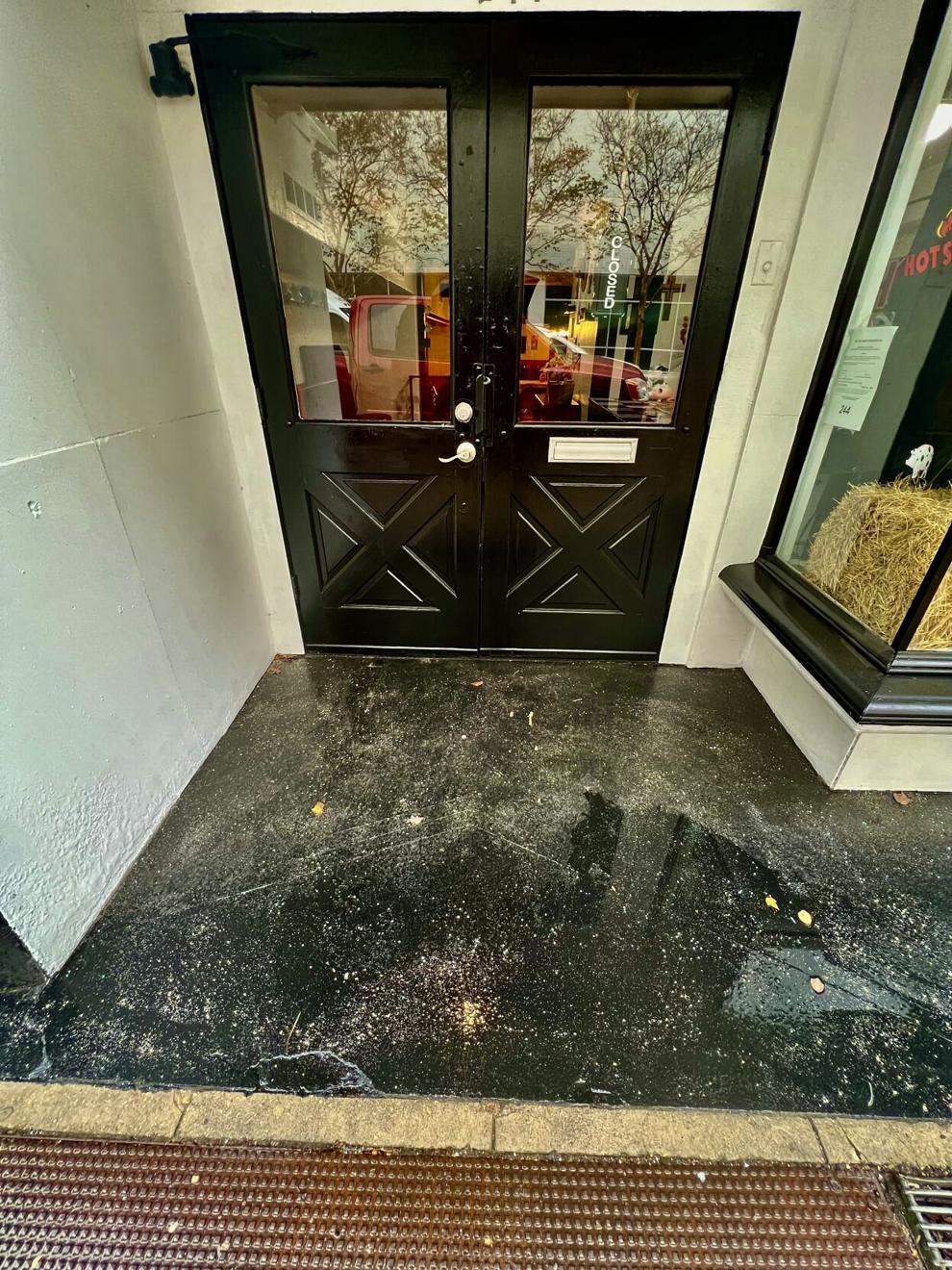 Still, the story of Reymond's store building doesn't end there. Air conditioning was added in 1936, then the store was sold in 1955 to New Orleans-based company D.H. Holmes, which kept the Dalton's name for a few years before hanging its own sign over the store.
"Then, I.H. Rubenstein's bought the building and open its store in 1965," Sykes said. "It was open until 1974."
The State National Life Insurance Co. bought the building that same year and opted to demolish the Reymond's office building, along with part of the Reymond store building's extension, citing fire regulations as the reason.  
As for the seven-story store, it still bears the State National Life Insurance name at 263 Third St. The building stands empty except for the Downtown Grocery occupying the ground-floor corner at Third Street.
Still, the old store building hasn't been pronounced dead. Earlier this year, New Orleans investor Jared Cohen announced plans to breathe life into this corner once frequented by Baton Rouge shoppers.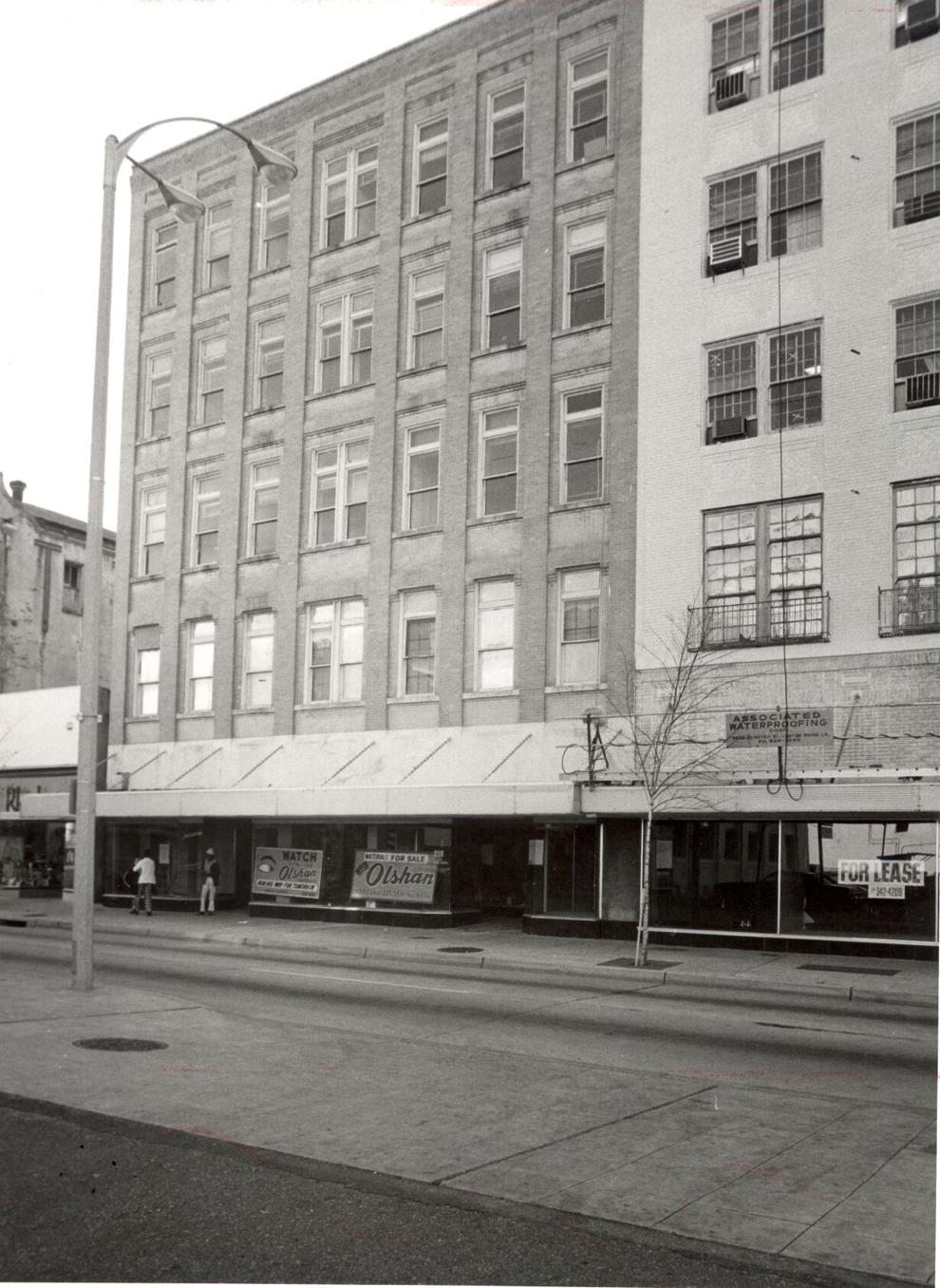 Cohen, who now owns the property, said in an April interview that he plans to put most of the building back in operation as office space with retail and a restaurant on the first floor and an event space on the roof.
Cohen also told The Advocate that he thinks more LSU students will begin living downtown within the next five to 10 years because of its proximity to campus and its increasing amenities, which brings this story full circle — in a neatly tied package of purple and gold ribbon.

The WEBFI algorithm actively curates and presents current news from the Internet, delivering it in both written and video formats on our platform. Unlike many other news sources, WEBFI Network - News Balance Security is committed to a user-friendly experience. We refrain from displaying advertising within our content, avoid any redirects to external sites, and meticulously filter out any graphic content deemed unsafe, sensitive, or private. Our primary goal is to provide visitors with a distraction-free and secure environment, ensuring they receive the news they seek.
Importantly, WEBFI Network does not collect any personal information from our visitors, and we do not engage in newsletter subscriptions. We take pride in remaining entirely advertiser-free, thanks to the support of our contributors and our dedicated hosting service partners. It's crucial to note that the opinions and content presented on our platform do not necessarily align with WEBFI NETWORK's opinion, philosophy, or vision. We strongly uphold the principle of freedom of speech, welcoming a diverse range of perspectives and ideas.
---
🌐 Discover News Balance 🇺🇲 - Your Round-the-Clock Source for Unbiased News!
Experience a continuous stream of comprehensive, unbiased news coverage 24/7/365 with News Balance 🇺🇲. Our carefully curated playlist ⏯ delivers a harmonious blend of national and global politics, cutting-edge tech updates, weather forecasts, noteworthy events, and captivating entertainment news.
The best part? No subscriptions, registrations, or downloads required. Enjoy an ad-free news experience with News Balance 🇺🇲.
 Since 2018
"Introducing Unstoppable Private WebFi Websites – Your Forever Digital Haven.
Experience a lifetime of ownership with WebFi – where your digital presence is a lifelong investment. Embark on your journey to own a private website for life.
Our private servers set the gold standard in security and performance, ensuring your website stays in top form. With our lifetime license, the days of fretting about hosting renewals are behind you.
Unlock your very own WebFi space granting you a perpetual haven for your projects, free from the burden of recurring payments. Your sole financial commitment? Domain annuities to your domain provider – nothing more!
Choose WebFi and own your digital future, secure, simple, and everlasting."LEARN MORE
---
WEBFI |🟢LIVE | TECH  | MAGAZINE | NEWS | CRYPTO&MARKET | LATINO|⛅WEATHER |☕ HURRICANE WATCH RADAR WATCH
X