¿En qué consiste el programa, a quién beneficia y en cuántos países está presente?, hablamos con sus protagonistas y esto nos contaron.
Reuniendo a estudiantes, docentes, miembros del Gobierno Nacional, entidades sociales y ejecutivos de otras compañías, Samsung celebró 10 años del programa global de ciudadanía corporativa llamado 'Solve for Tomorrow' en América Latina.
El evento realizado en el Jardín Botánico de Bogotá, contó con la presencia de la ganadora del 'Solve for Tomorrow', la argentina Valentina Avetta y el presidente y CEO de Samsung, HS Jo; entro otros distinguidos invitados.
Valentina, una joven de 26 años, fue galardonada por desarrollar un sensor termocrómico con el fin de detectar la pérdida de la cadena de frío de la insulina biosintética.
La argentina reveló que inició su proyecto en 2016 cuando era estudiante de ingeniería, ya que ella utilizaba insulina para tratar su diabetes, y se convirtió en su tesis de grado.
"Salgan a la calle como si fuera la primera vez que van a la calle. Les recomiendo que se contacten con profes que estén muy motivados… sí hay motivación, siempre te van a ayudar y pedir ayuda", fue el consejo que nos compartió Valentina Avetta.
Te puede interesar: La movilidad del futuro será sostenible y autónoma con apoyo de la IA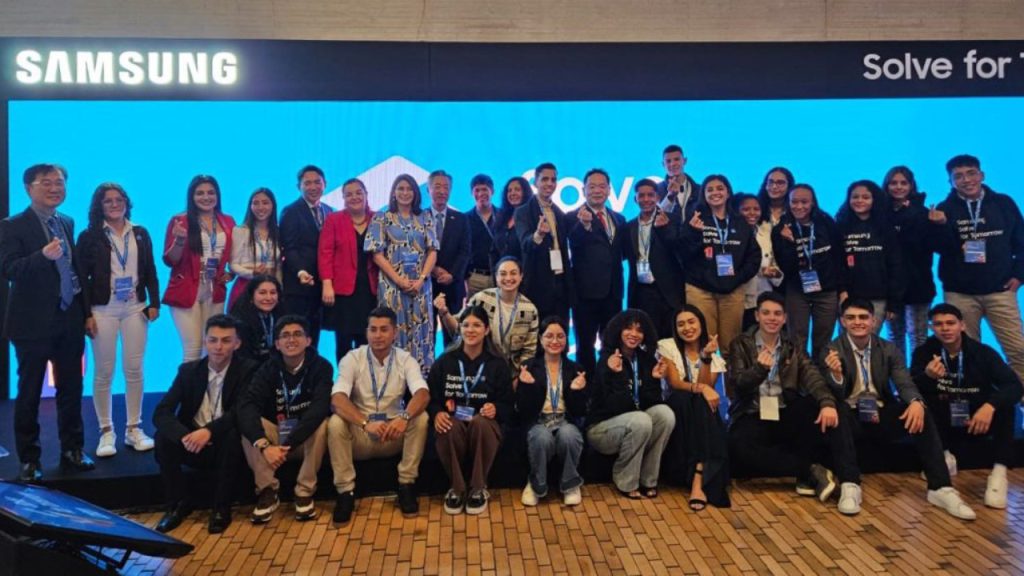 Mira también: Las características del Samsung Galaxy M34 5G que lo hacen un teléfono monstruoso
Por su parte, el vicepresidente de Asuntos Corporativos de Samsung Latinoamérica, Mario Laffitte, reveló a Cablenoticias las cifras destacadas del programa 'Solve for Tomorrow', que celebra su 10° aniversario transforma la vida de miles jóvenes.
"Ya estamos con más de 300 mil alumnos y alumnas involucradas en el proyecto, más de 40 mil profesores y profesoras, y en los 10 años, más de 46 mil proyectos presentados por los alumnos de escuelas públicas en la región. Todo eso empezó en siete países y ahora estamos en 20 países en Latinoamérica".
Solve for Tomorrow involucra a más de 22 mil escuelas públicas de la región y fomenta el conocimiento y la innovación de proyectos desarrolladores por los diferentes alumnos y profesores.
"Esto nos da mucho orgullo. La visión de Samsung es la educación, el puente para un futuro mejor para todos los países de Latinoamérica", precisó Mario Laffitte. Samsung también ofrece cursos de formación, capacitación en Tecnologías de la Información y las Comunicaciones como Inteligencia Artificial, Internet de la Cosas y Big Data.
Por: Iván Rodríguez Plata

The WEBFI algorithm actively curates and presents current news from the Internet, delivering it in both written and video formats on our platform. Unlike many other news sources, WEBFI Network - News Balance Security is committed to a user-friendly experience. We refrain from displaying advertising within our content, avoid any redirects to external sites, and meticulously filter out any graphic content deemed unsafe, sensitive, or private. Our primary goal is to provide visitors with a distraction-free and secure environment, ensuring they receive the news they seek.
Importantly, WEBFI Network does not collect any personal information from our visitors, and we do not engage in newsletter subscriptions. We take pride in remaining entirely advertiser-free, thanks to the support of our contributors and our dedicated hosting service partners. It's crucial to note that the opinions and content presented on our platform do not necessarily align with WEBFI NETWORK's opinion, philosophy, or vision. We strongly uphold the principle of freedom of speech, welcoming a diverse range of perspectives and ideas.
---
🌐 Discover News Balance 🇺🇲 - Your Round-the-Clock Source for Unbiased News!
Experience a continuous stream of comprehensive, unbiased news coverage 24/7/365 with News Balance 🇺🇲. Our carefully curated playlist ⏯ delivers a harmonious blend of national and global politics, cutting-edge tech updates, weather forecasts, noteworthy events, and captivating entertainment news.
The best part? No subscriptions, registrations, or downloads required. Enjoy an ad-free news experience with News Balance 🇺🇲.
 Since 2018
"Introducing Unstoppable Private WebFi Websites – Your Forever Digital Haven.
Experience a lifetime of ownership with WebFi – where your digital presence is a lifelong investment. Embark on your journey to own a private website for life.
Our private servers set the gold standard in security and performance, ensuring your website stays in top form. With our lifetime license, the days of fretting about hosting renewals are behind you.
Unlock your very own WebFi space granting you a perpetual haven for your projects, free from the burden of recurring payments. Your sole financial commitment? Domain annuities to your domain provider – nothing more!
Choose WebFi and own your digital future, secure, simple, and everlasting."LEARN MORE
---
WEBFI |🟢LIVE | TECH  | MAGAZINE | NEWS | CRYPTO&MARKET | LATINO|⛅WEATHER |☕ HURRICANE WATCH RADAR WATCH
X