The majority of cryptocurrencies have started to turn green in terms of their price movement, which has led to Shiba Inu seeing gains of 2% over the past 24 hours. In spite of the modest increase in price, the SHIB burn rate seems to have taken a massive nosedive. 
According to the official SHIB burn tracker, Shibbburn, only 983,884 SHIB tokens were burned in the last 24 hours, representing a decline of over 99% from the previous day. A significant reduction of this kind in the burn rate is guaranteed to raise concerns from investors on the likelihood of downward pressure on SHIB's price in the short term. 
SHIB Burn Rate Plummets 98.79%
The primary purpose of the Shiba Inu burning is to reduce the amount of SHIB tokens in circulation, hence fostering scarcity and subsequently driving up the value of SHIB tokens in circulation. SHIB tokens are burned sporadically, with some days witnessing more token burn than others. For example, the first SHIB burn on Shiba Inu's layer-2 solution Shibarium amounted to 97 Million SHIB tokens.
According to the Shibburn website, a total of 983,884 SHIB tokens were burnt in the past 24 hours in three transactions, with the most being 42,850 SHIB tokens transferred to an inactive wallet. This figure translates to a 98.79% decrease in the number of tokens burned, a significant decline compared to the prior days.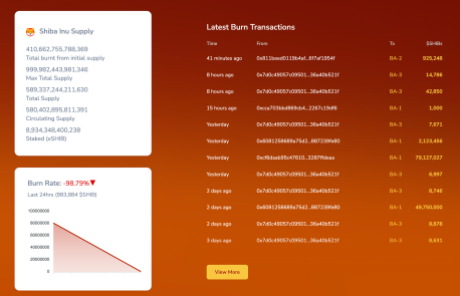 Source: Shibburn
To put this into perspective, a total of 81.26 million SHIB tokens were burnt yesterday, and more than 49.76 million SHIB tokens were burnt two days ago.
Implications For Shiba Inu Investors
SHIB tokens can be burnt by any investor by sending tokens to any of the three SHIB burn addresses. According to the Shiba Inu community's marketing lead, SHIB burns are a community effort. Data from the Shibburn website shows that more than 410 trillion SHIB tokens have been burnt from the initial supply. 
This trend of the reduction in SHIB burn rate seems to have been going on for a while, as interest seems to be waning since the burn seems to have no effect on the price. As records from Shibburn show, October saw a decline of 37.12% in SHIB burns when compared to September. The burn rate performance slowed down throughout the month, despite the cryptocurrency's price spiking more than 17% from its October bottom.
SHIB is currently trading at $0.000008687, still up by 23.75% in the past 30 days. SHIB's journey to $1 seems bleak at the moment, considering there are more than 589 trillion SHIB in circulation. SHIB burns will have to play an important part before the cryptocurrency can reach the $1 mark as they will help to decrease the total supply.
SHIB price at $0.00000868 | Source: 

SHIBUSD On Tradingview.com
Featured image from CoinGecko, chart from Tradingview.com

The WEBFI algorithm actively curates and presents current news from the Internet, delivering it in both written and video formats on our platform. Unlike many other news sources, WEBFI Network - News Balance Security is committed to a user-friendly experience. We refrain from displaying advertising within our content, avoid any redirects to external sites, and meticulously filter out any graphic content deemed unsafe, sensitive, or private. Our primary goal is to provide visitors with a distraction-free and secure environment, ensuring they receive the news they seek.
Importantly, WEBFI Network does not collect any personal information from our visitors, and we do not engage in newsletter subscriptions. We take pride in remaining entirely advertiser-free, thanks to the support of our contributors and our dedicated hosting service partners. It's crucial to note that the opinions and content presented on our platform do not necessarily align with WEBFI NETWORK's opinion, philosophy, or vision. We strongly uphold the principle of freedom of speech, welcoming a diverse range of perspectives and ideas.
---
🌐 Discover News Balance 🇺🇲 - Your Round-the-Clock Source for Unbiased News!
Experience a continuous stream of comprehensive, unbiased news coverage 24/7/365 with News Balance 🇺🇲. Our carefully curated playlist ⏯ delivers a harmonious blend of national and global politics, cutting-edge tech updates, weather forecasts, noteworthy events, and captivating entertainment news.
The best part? No subscriptions, registrations, or downloads required. Enjoy an ad-free news experience with News Balance 🇺🇲.
 Since 2018
"Introducing Unstoppable Private WebFi Websites – Your Forever Digital Haven.
Experience a lifetime of ownership with WebFi – where your digital presence is a lifelong investment. Embark on your journey to own a private website for life.
Our private servers set the gold standard in security and performance, ensuring your website stays in top form. With our lifetime license, the days of fretting about hosting renewals are behind you.
Unlock your very own WebFi space granting you a perpetual haven for your projects, free from the burden of recurring payments. Your sole financial commitment? Domain annuities to your domain provider – nothing more!
Choose WebFi and own your digital future, secure, simple, and everlasting."LEARN MORE
---
WEBFI |🟢LIVE | TECH  | MAGAZINE | NEWS | CRYPTO&MARKET | LATINO|⛅WEATHER |☕ HURRICANE WATCH RADAR WATCH
X