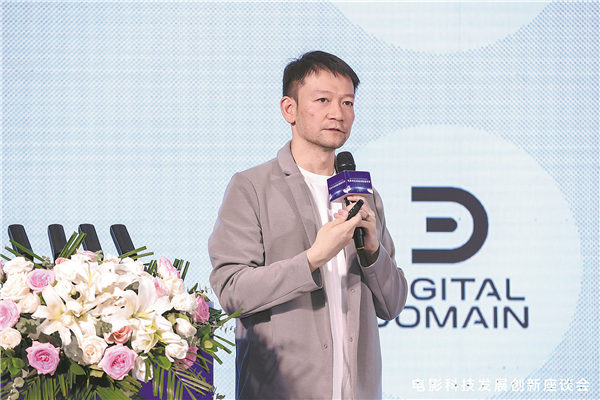 As digital technologies bring new opportunities and challenges, China"s film industry needs to strengthen collaboration across the film-production chain and achieve autonomy over core technologies, experts stressed at a recent symposium.
The Film Technology Development and Innovation Symposium took place in Pingyao, Shanxi province, on Oct 12, highlighting the building of a robust film industry with technological self-sufficiency.
The symposium was hosted by the China Film Administration, and jointly organized by the China Research Institute of Film Science and Technology as well as the Shanxi provincial publicity department.
More than 140 representatives from film bureaus, production companies, filmmaking equipment manufacturers, cinemas and industry associations joined the symposium, and nine experts gave keynote speeches on the domestic and international trends in film technology development, application and innovation.
According to Lu Liang, deputy director of the China Film Administration, over the past decade, China's film technology has been closely following internationally advanced standards and made innovations in areas across the industry chain, including production, distribution, screening, copyright protection, infrastructure, technical standards and quality assurance.
"Together, we aim to seek the path for China's film technology to achieve self-reliance and high-level development, as well as exchange successful experiences and innovative ideas on how technology can empower the Chinese cinema in the new era," Lu says.
"Entering the era of a digital economy and big science, film research and technology applications have become more complex, systematic and collaborative. We hope that all segments of China's film industry chain will collaborate and leverage their strengths, to fortify underdeveloped areas and achieve independence in core film technologies."
Guo Fan, director of blockbuster sci-fi film franchise The Wandering Earth, says that his film crew had experimented with artificial intelligence in the making of the second installment and conducted research at film studios and technology companies abroad.
By sharing videos of the work he and his colleagues carried out at the studio, he showed that their AI technology can be applied to various tasks, such as creating realistic digital characters, re-creating the voices and appearances of actors, and even aging characters by about 25 years without the need for makeup.
He says that while delving into AI technologies, he was frequently taken aback by the outcomes. For instance, he used to learn drawing as a child, and it takes years of practice to complete drawings with the same level of intricacy generated by AI in a matter of seconds.
"When I saw the videos (generated by AI), they stirred great emotions within me, particularly a sense of anxiety. I couldn't help but wonder what lies ahead and how we should prepare for the rapid pace of technological advancement," Guo says.
After a field trip of three months to internationally renowned AI conferences and labs, he was proud to say that China's own AI technologies are advancing at a matching pace with international trends, and that, in the future, the technology might influence the film production and creation processes.
"Based on the technological changes, our creative process will undergo changes. For example, the scriptwriting based on large language models will provide us with numerous possibilities and assist us in handling many low-value tasks," Guo says.
"It enriches our creative process by offering more possibilities, allowing us to filter useful content and derive inspiration from the generated text. And the future of photography and lighting may lean toward real-time rendering and generating."
Zhang Wei, head of the China Research Institute of Film Science and Technology, says that the current era, characterized by information technology, features convergence and innovation, which offers various industries the opportunity to break free from conventional operational models and create solutions that are more flexible and efficient.
"Given the strong technological nature of filmmaking, its development inevitably follows the trends and patterns of technological advances. The current global film industry, in terms of production, screening and overall development, aligns with the digitalization trend and shows the characteristics of convergence and innovation," Zhang says.
According to Zhang, there are four aspects for China's film industry to highlight in its future development — using high-tech formats in film production and screening, building a comprehensive film production system, deepening independent innovation in film technology, and cultivating technological and creative talent.

The WEBFI algorithm actively curates and presents current news from the Internet, delivering it in both written and video formats on our platform. Unlike many other news sources, WEBFI Network - News Balance Security is committed to a user-friendly experience. We refrain from displaying advertising within our content, avoid any redirects to external sites, and meticulously filter out any graphic content deemed unsafe, sensitive, or private. Our primary goal is to provide visitors with a distraction-free and secure environment, ensuring they receive the news they seek.
Importantly, WEBFI Network does not collect any personal information from our visitors, and we do not engage in newsletter subscriptions. We take pride in remaining entirely advertiser-free, thanks to the support of our contributors and our dedicated hosting service partners. It's crucial to note that the opinions and content presented on our platform do not necessarily align with WEBFI NETWORK's opinion, philosophy, or vision. We strongly uphold the principle of freedom of speech, welcoming a diverse range of perspectives and ideas.
---
🌐 Discover News Balance 🇺🇲 - Your Round-the-Clock Source for Unbiased News!
Experience a continuous stream of comprehensive, unbiased news coverage 24/7/365 with News Balance 🇺🇲. Our carefully curated playlist ⏯ delivers a harmonious blend of national and global politics, cutting-edge tech updates, weather forecasts, noteworthy events, and captivating entertainment news.
The best part? No subscriptions, registrations, or downloads required. Enjoy an ad-free news experience with News Balance 🇺🇲.
 Since 2018
"Introducing Unstoppable Private WebFi Websites – Your Forever Digital Haven.
Experience a lifetime of ownership with WebFi – where your digital presence is a lifelong investment. Embark on your journey to own a private website for life.
Our private servers set the gold standard in security and performance, ensuring your website stays in top form. With our lifetime license, the days of fretting about hosting renewals are behind you.
Unlock your very own WebFi space granting you a perpetual haven for your projects, free from the burden of recurring payments. Your sole financial commitment? Domain annuities to your domain provider – nothing more!
Choose WebFi and own your digital future, secure, simple, and everlasting."LEARN MORE
---
WEBFI |🟢LIVE | TECH  | MAGAZINE | NEWS | CRYPTO&MARKET | LATINO|⛅WEATHER |☕ HURRICANE WATCH RADAR WATCH
X