WORCESTER, Mass. — A bronze bust believed to depict the daughter of an ancient Roman emperor has been seized from an art museum in Massachusetts by New York authorities investigating antiquities stolen from Turkey.
The seizure is the latest in an ongoing investigation into a smuggling network involving objects looted from Bubon in southwestern Turkey and trafficked through Manhattan. A spokesperson for Manhattan District Attorney Alvin Bragg did not provide further details of the investigation.
The bust known as "Portrait of a Lady" was acquired in 1966 by the Worcester Art Museum about 40 miles west of Boston. The seizure comes weeks after the Manhattan district attorney's office seized a statue thought to portray the Roman emperor and philosopher Marcus Aurelius from a Cleveland, Ohio, museum.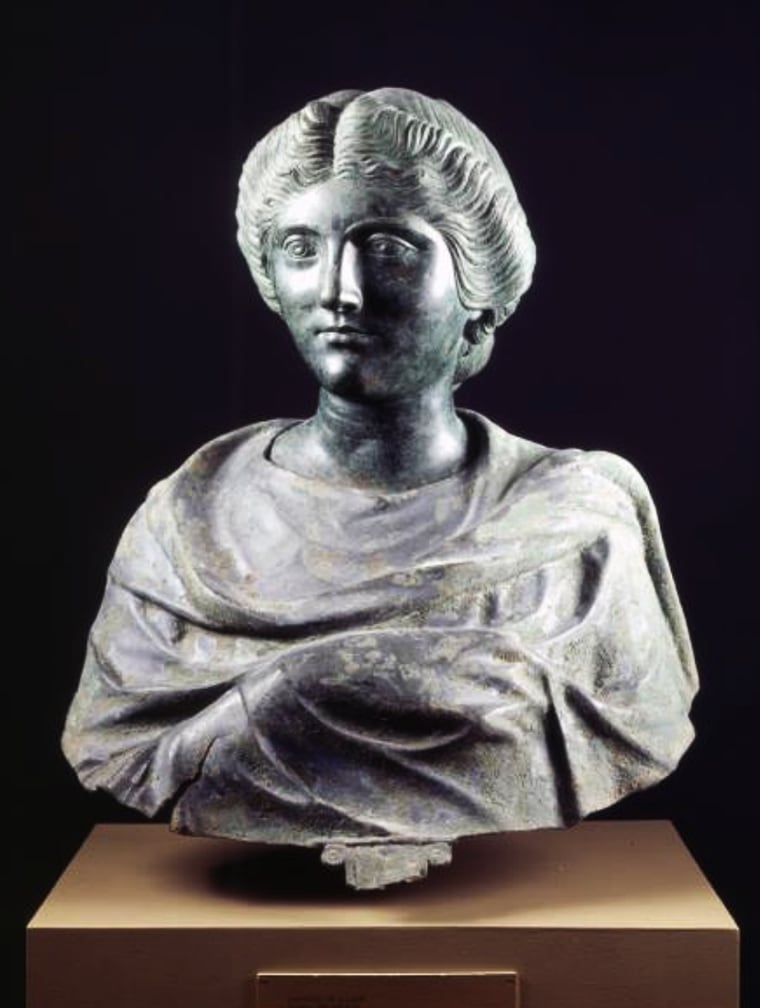 Worcester Art Museum officials said in a statement that the bust taken from their possession dates from A.D. 160 to 180 and is believed to be a life-sized portrayal of a daughter of Marcus Aurelius or another Roman emperor, Septimius Severus.
Museum officials said they had "limited information" about the bust's history when they acquired it nearly six decades ago.
"We are very thankful for the new information provided to us," said Matthias Waschek, the museum's director. "The ethical standards applicable to museums are much changed since the 1960s, and the Museum is committed to managing its collection consistent with modern ethical standards."
The bust shows a young woman with a heavy-lidded gaze and hair carefully combed into waves.
Marcus Aurelius ruled as Roman emperor from A.D. 161 to 180 and was a Stoic philosopher whose "Meditations" have been studied over the centuries. Septimius Severus' reign from A.D. 193 to 211 was marked by his efforts to convert the government into a military monarchy.
Turkey first made claims about the Marcus Aurelius statue in 2012 when it released a list of nearly two dozen objects in the Cleveland museum's collection that it said had been looted from Bubon and other locations. Museum officials said at the time that Turkey had provided no hard evidence of looting.
Unstoppable Private Websites – Ownership for lifetime. Live News Magazine. Own a private website for life with WebFi. Our private servers offer the best in security and performance,and our lifetime license means you'll never have to worry about renewing your hosting again.
Get your own Webfi space to host your website for a single donation that allows you to host your project for life without the need for recurring payments, You only pay for your domain annuities to your domain provider and that's it! LEARN MORE
⚖News Balance🇺🇲
The WEBFI algorithm collects the active news on the Internet and temporarily exposes it on this platform, both in written and video format. WEBFI Network - News Balance Security, does not show advertising in its contents, does not redirect to other sites, and filters any graphic content evaluated as insecure, sensitive, or private. In this way, we ensure that all visitors are informed without distraction and safely. The opinions and content issued on this platform do not necessarily reflect the opinion, philosophy, or vision of WEBFINET. We strongly believe in freedom of speech.
WEBFI ⚖News Balance🇺🇲 is publishing 24/7/365, Our playlist⏯ compacts a fully balanced news program with a broad look at national USA and World politics, tech, weather, events, and entertainment news. No subscription, registration, or download is needed. Ad-Free.

WEBFI Unstoppable Websites
 Since 2018 WEBFI
---