Last week brought high volatility but little change for bitcoin's price, which registered a high of $28,167 and a low of $25,328 but closing the week down a modest 0.48%.
While longer term price charts paint a decidedly bearish picture, a growing divergence between price action and momentum indicators suggests bulls may soon gain the upper hand.
With the tug-of-war between bitcoin bulls and bears in full swing, what are the biggest crypto gainers today on DEXTools?
Bitcoin fell below a 224-day ascending support line on August 14, ending the previous uptrend that began in early 2023.
The breakdown occurred after bitcoin was rejected from the $30,000 resistance level that has held since May 2022.
Bitcoin's RSI fell below the key 50 level in August. This marked the first time the RSI dropped below 50 since the ascending support line formed at the beginning of 2023. The move below this significant level gives more credibility to the breakdown of the ascending support.
Despite the bearish technical backdrop, Bitcoin recently received a boost from positive fundamental news. JPMorgan anticipates that the SEC will likely approve a Bitcoin ETF in the near future.
Meanwhile, the daily charts reveal a bullish divergence forming between price and the RSI momentum indicator. This occurs when momentum rises even as prices fall, often foreshadowing a trend reversal.
The bullish divergence also pushed the RSI out of oversold territory, another sign momentum has shifted in favor of buyers.
So far, this divergence has yet to translate to higher prices, with bitcoin continuing to trade near August lows.
If selling pressure continues, Bitcoin could fall to test support around $24,700, about 4% below current prices. On the upside, a move above $30,000 would mark a 22% gain from current levels.
The coming days will likely determine which force wins out – the bullish momentum divergence or the bearish price action. The outcome will set the tone for which direction Bitcoin trends in the weeks ahead.
Despite Bitcoin's uncertain outlook, new opportunities are arising in the cryptocurrency market as a new trading week kicks off. POW, TOTO, and Chainback are some of the biggest crypto gainers today on DEXTools.
The Rise of Pepe of Wallstreet (POW): Insights into the Memecoin's Bullish Momentum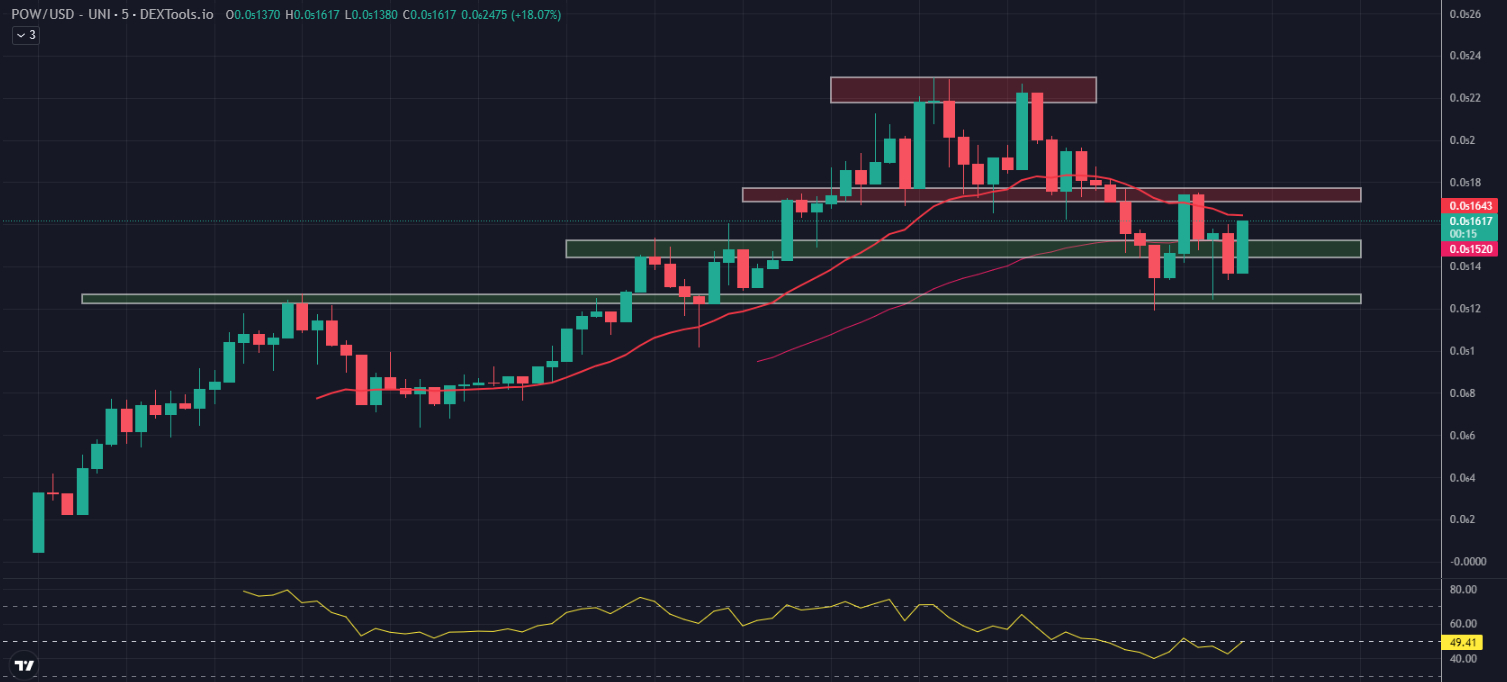 Pepe of Wallstreet (POW) has commanded attention today in the cryptocurrency market with a dramatic surge, recording an increase of 4,735.65% at one stage and hitting an intraday high of $0.000002295.
The crypto coin has since retraced somewhat, with its current value at $0.000001617, still marking an impressive daily gain of 2,907.15%.
With POW now trending toward its prior support levels, market participants are anticipating its potential next move.
This article will investigate the current technical indicators and provide some insights into the possible future price movements of POW.
POW's 15-minute 20 EMA is currently at $0.000001643, while the 50 EMA stands slightly lower at $0.000001520. Meanwhile, the RSI is currently at a neutral level of 49.41.
Considering the current price of POW is marginally below the 20 EMA but above the 50 EMA, it indicates the immediate trend is somewhat bearish, but has potential for a bullish reversal.
The price is currently sandwiched between these two EMAs, which are acting as immediate resistance and support levels respectively.
Looking at the resistance levels, the immediate resistance is the 15-minute 20 EMA of $0.000001643.
If POW can surpass this level, traders should watch for the horizontal resistance zone stretching from $0.000001708 to $0.000001770. A break past this resistance zone may signal further bullish momentum.
On the other hand, the immediate support level is situated at the horizontal support region from $0.000001442 to $0.000001523.
This level is also in confluence with the 15-minute 50 EMA of $0.000001520, reinforcing its strength as a potential floor for the price of POW. Should the price drop to this level, it could provide a good buying opportunity for traders looking for a bounce.
While POW has shown significant gains today, its current position between the 20 EMA and 50 EMA resistance and support levels suggests a state of indecision in the short-term market.
Traders should carefully observe these levels for potential breakouts or reversals. A break above the resistance could indicate a continuation of the bullish momentum, while a fall below the support level may signal a potential bearish retracement.
Totoro Inu's (TOTO) Parabolic Rise; One of the Biggest Crypto Gainers Today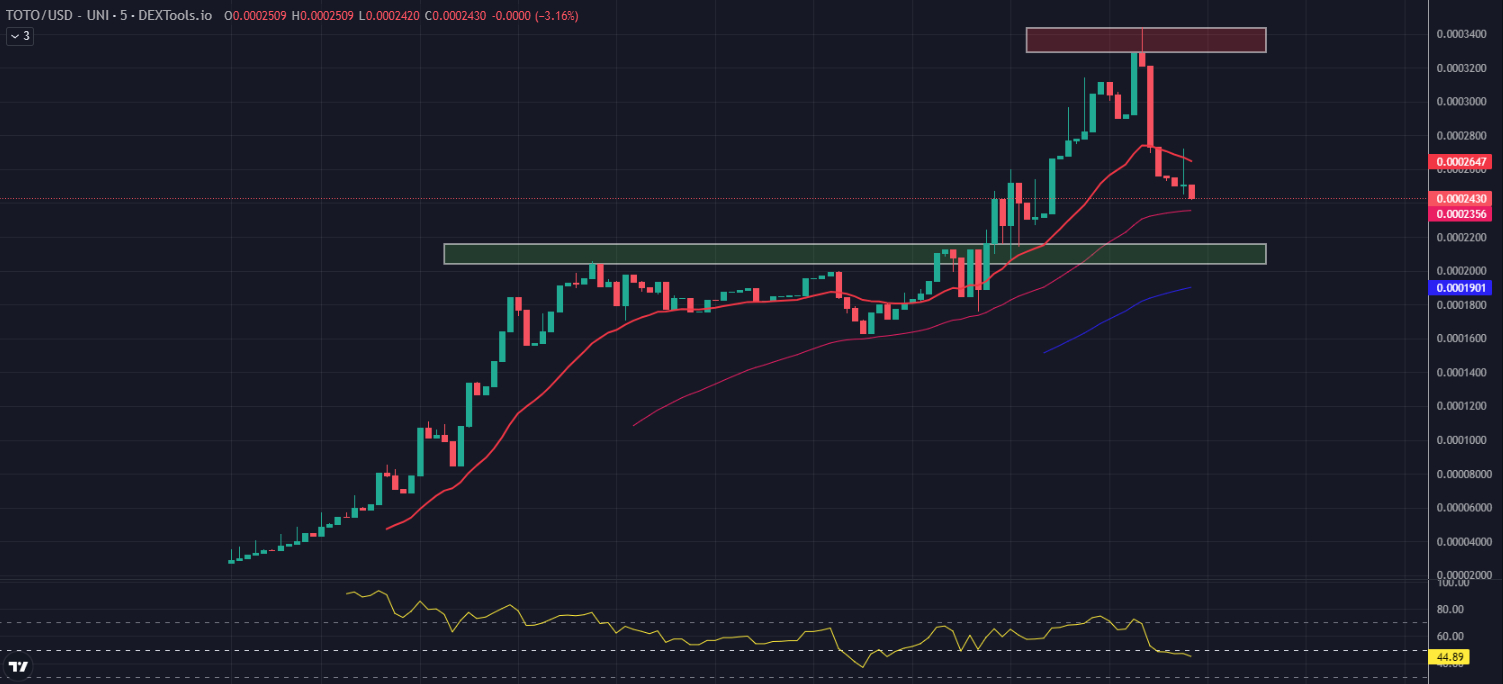 Totoro Inu (TOTO) began the day with a parabolic move, surging to an intraday high of 1,160% to reach a price of $0.0003435.
But amid the meteoric rise, a retracement to the 5-minute 50-EMA (Exponential Moving Average) has been observed, indicating a potential pivot point in TOTO's price trajectory.
TOTO's 5-minute 20-EMA is at $0.0002647, while the more stable 50-EMA and 100-EMA are at $0.0002356 and $0.0001901 respectively.
The 20-EMA, acting as the immediate resistance, is a short-term line of defense for the price. TOTO's current price of $0.0002430 is slightly below this level, suggesting a struggle to breach the resistance.
Should the bulls regain momentum and push beyond the 20-EMA, another bullish run could be initiated, possibly propelling TOTO to new highs.
On the other hand, the 50-EMA, currently acting as immediate support, is just below the current price. If selling pressure intensifies and the TOTO price falls beneath this line, it could trigger a bearish scenario.
The next safety net would be the horizontal support zone between $0.0002041 and $0.0002155, which could potentially halt further declines.
TOTO's RSI is currently at 44.89. This level is below the midline of 50, indicating a slightly bearish sentiment in the short term.
However, it's also important to note that the RSI is not in the oversold region, leaving room for potential buying opportunities.
Traders and investors should closely watch TOTO's price movement in relation to the 20-EMA resistance and the 50-EMA support.
A breach above the resistance might signal a buying opportunity, while a break below the support could indicate a potential selling point.
Labrador's (LAB) 235% Gains: EMA and RSI Insights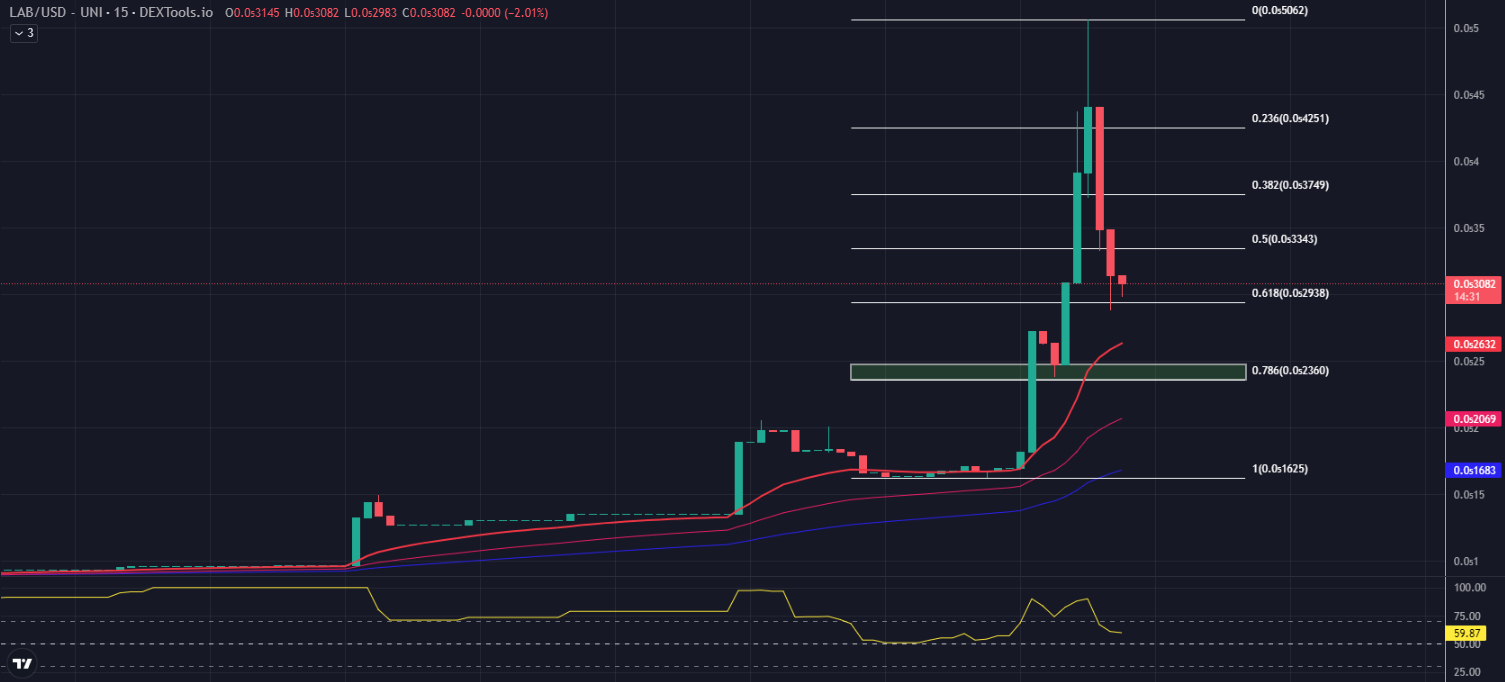 After surging nearly 425% earlier today off the 15-minute 20 EMA, Labrador (LAB) has pulled back slightly to around $0.000003082. However, the meme coin still shows impressive gains of 235.18% so far on the day.
The technicals indicate there could be more downside for Labrador in the immediate short term.
The RSI of 59.87, while still in bullish territory, shows downward momentum as evidenced by the last few red candlesticks. The RSI could potentially fall to the 50 level before finding support.
Traders should watch for Labrador to test support around the Fib 0.618 level at $0.000002938.
If the price holds above this level, it could signal a bounce is imminent. The 20 EMA at $0.000002632 also looms as an area of interest if the pullback extends further.
On the upside, Labrador faces initial resistance around the Fibonacci 0.5 level at $0.000003343.
Only a decisive break above this area would negate the short-term bearish outlook and could trigger a continuance of the strong uptrend.
The technicals favor a bit more downside for Labrador in the very near term before bulls potentially re-emerge.
Aggressive traders can look to buy on dips, targeting the aforementioned support levels.
However, more conservative traders may want to wait for a definitive higher low to form before entering new bullish positions.
Other Cryptocurrencies Worth Your Attention
Investors interested in expanding their cryptocurrency portfolio might find value in participating in presales for new crypto projects.
Getting involved early often allows you to secure tokens at a much lower cost than their expected listing prices.
This investment approach comes with a degree of risk, but the possible returns from successful projects after launch can be significant.
Skilled founding teams support many presale tokens and present unique ideas that could influence the blockchain sector positively.
Spotting and acquiring tokens from these potential influencers early on can lead to substantial growth if the project succeeds after its launch.
The stakes are high; any failure in the execution could result in losses for presale investors. However, the potential profits could be immense if a presale investment proves successful.
The market analysts at Cryptonews.com use their industry knowledge and experience to review upcoming presales and highlight promising opportunities based on the team's skills and the project's uniqueness.
After a thorough evaluation, they have compiled a list of presale offerings that show promise due to their skilled teams and unique ideas.
Therefore, for cryptocurrency investors who are okay with higher risk, getting involved in these selected presales could provide lucrative investment opportunities in 2023 and beyond.
New Cryptocurrencies to Buy In 2023
Disclaimer: Crypto is a high-risk asset class. This article is provided for informational purposes and does not constitute investment advice. You could lose all of your capital.
Unstoppable Private Websites – Ownership for lifetime. Live News Magazine. Own a private website for life with WebFi. Our private servers offer the best in security and performance,and our lifetime license means you'll never have to worry about renewing your hosting again.
Get your own Webfi space to host your website for a single donation that allows you to host your project for life without the need for recurring payments, You only pay for your domain annuities to your domain provider and that's it! LEARN MORE
⚖News Balance🇺🇲
The WEBFI algorithm collects the active news on the Internet and temporarily exposes it on this platform, both in written and video format. WEBFI Network - News Balance Security, does not show advertising in its contents, does not redirect to other sites, and filters any graphic content evaluated as insecure, sensitive, or private. In this way, we ensure that all visitors are informed without distraction and safely. The opinions and content issued on this platform do not necessarily reflect the opinion, philosophy, or vision of WEBFINET. We strongly believe in freedom of speech.
WEBFI ⚖News Balance🇺🇲 is publishing 24/7/365, Our playlist⏯ compacts a fully balanced news program with a broad look at national USA and World politics, tech, weather, events, and entertainment news. No subscription, registration, or download is needed. Ad-Free.

WEBFI Unstoppable Websites
 Since 2018 WEBFI
---