In a sign that President Joe Biden's brand remains strong with the party's rank and file, former White House official Gabe Amo won a crowded Democratic primary Tuesday to fill a vacant congressional seat in Rhode Island, The Associated Press projected.
After having defeated 10 other Democrats in the primary, Amo is now almost certain to succeed former Democratic Rep. David Cicilline — who resigned this year to take a job running a large nonprofit group — in representing the deep blue district in Congress.
The general election will be in November. Gerry Leonard won the GOP primary, the AP projected; the GOP has not held the seat in decades. The district voted overwhelmingly for Biden in 2020.
"This election, this primary election, showed that Rhode Islanders believe in a state where one of their sons, the son of two West African immigrants — from Ghana and Liberia — could receive the love and the investment of a community and go from serving the president of the United States a briefing in the Oval Office to being the Democratic nominee from the first congressional district," Amo told supporters during his victory speech.
Amo, the son of African immigrants who worked in the White House under Biden and former President Barack Obama, frequently touted his association with both Democratic presidents, including a TV ad that called him the candidate "trusted by President Obama and President Biden" over images of him in the Oval Office. Neither Obama nor Biden formally endorsed a candidate in the race.
Amo, who had the backing of former Biden White House chief of staff Ron Klain, explained his job as deputy director of the Office of Intergovernmental Affairs by saying he was "Biden's principal liaison to mayors and local elected officials."
His message reflected Biden's, too, with ads that emphasized his experience and played up the stakes by opening with images of the Jan. 6 riot and former President Donald Trump.
Former Cicilline adviser Rich Luchette said Amo's win "shows that President Biden's brand is stronger and more durable outside the Beltway than most people in DC acknowledge."
"Gabe leaned into his time working for the president over the course of this campaign. It's a big part of why he won tonight," Luchette said. "It's incredibly hard to run for Congress. It's even harder when you're a first time candidate."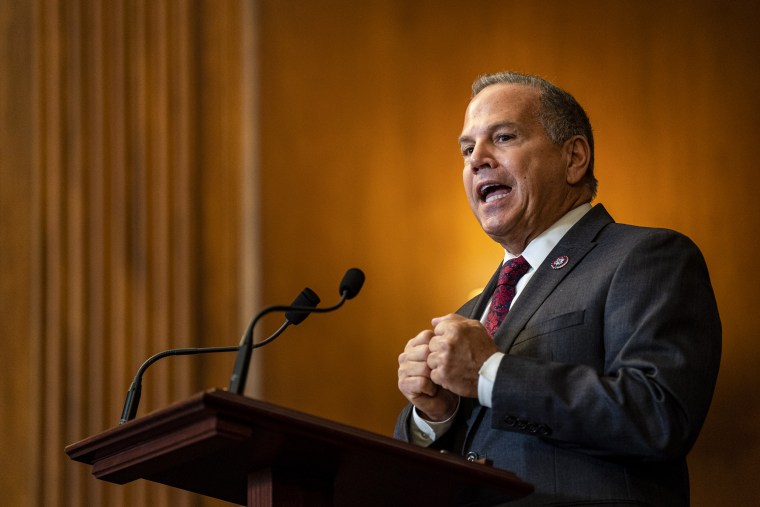 More than $3.4 million was spent on the airwaves, according to the ad tracking firm AdImpact, an unusually large sum for a congressional primary in a safe district. While the district has little danger of falling into Republican hands, national groups aligned with the Democratic Party waded into the primary as they sought to elevate their favored candidates from the pack.
The special election mostly played out over the summer in a district that includes the state capital, Providence, and famous resort towns like Newport, but it was rocked by a scandal that essentially sank the campaign of the race's onetime front-runner: Lt. Gov. Sabina Matos.
Matos would have been poised to be the first Afro-Latino in Congress had she won the primary, but her campaign was slow to respond to revelations in July that a vendor apparently forged some of the signatures it was hired to gather to secure her spot on Tuesday's ballot. Matos has denied any wrongdoing and blamed the rogue vendor, but she had difficulty shaking the issue.
In a blow to national progressives, Amo also defeated Aaron Regunberg, 33, a former state representative who had the support of Sen. Bernie Sanders, I-Vt., and Rep. Alexandria Ocasio-Cortez, D-N.Y.
Unstoppable Private Websites – Ownership for lifetime. Live News Magazine. Own a private website for life with WebFi. Our private servers offer the best in security and performance,and our lifetime license means you'll never have to worry about renewing your hosting again.
Get your own Webfi space to host your website for a single donation that allows you to host your project for life without the need for recurring payments, You only pay for your domain annuities to your domain provider and that's it! LEARN MORE
⚖News Balance🇺🇲
The WEBFI algorithm collects the active news on the Internet and temporarily exposes it on this platform, both in written and video format. WEBFI Network - News Balance Security, does not show advertising in its contents, does not redirect to other sites, and filters any graphic content evaluated as insecure, sensitive, or private. In this way, we ensure that all visitors are informed without distraction and safely. The opinions and content issued on this platform do not necessarily reflect the opinion, philosophy, or vision of WEBFINET. We strongly believe in freedom of speech.
WEBFI ⚖News Balance🇺🇲 is publishing 24/7/365, Our playlist⏯ compacts a fully balanced news program with a broad look at national USA and World politics, tech, weather, events, and entertainment news. No subscription, registration, or download is needed. Ad-Free.

WEBFI Unstoppable Websites
 Since 2018 WEBFI
---