Decentralized finance (DeFi) activity on Ethereum is picking up momentum based mainly on how gas fees have been trending in the first three weeks of November, data from Kaiko shows. Even so, despite Uniswap (UNI) spearheading the revival, looking at the gas attributed to its activities over this period, UNI prices remain stagnant below $5.6, with bulls failing to edge higher, breaking to new 2023 highs.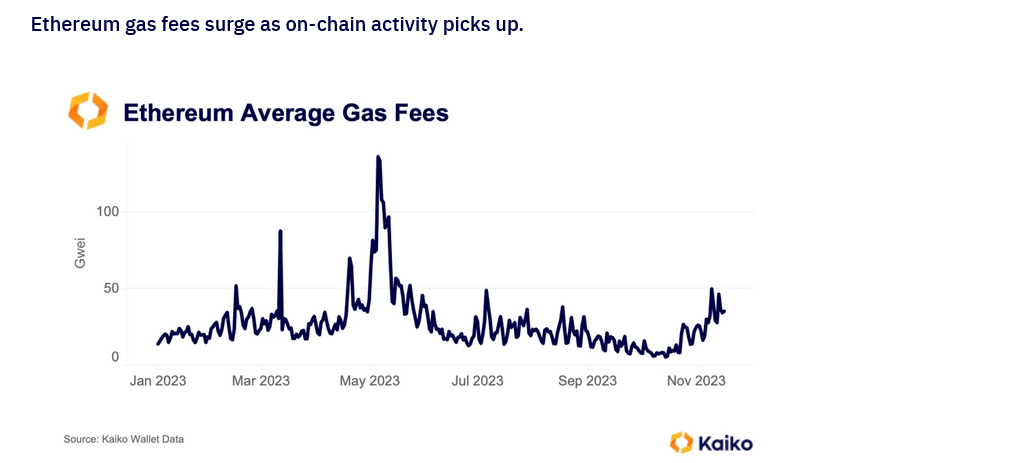 Ethereum Gas Fees Rising, DeFi Revival?
According to Kaiko, a blockchain analytics platform, the average gas fees on Ethereum hit multi-month highs last week. The platform expressly notes that the primary driver has been Uniswap's activities, reading from the rising transaction volumes from meme coins, including GROK. This, in turn, pushed block space demand higher, increasing gas fees.
Gas fees remain volatile but generally higher in the first three weeks of November. As of November 20, Ycharts data shows that the average cost of sending a transaction stood at 45.13 Gwei, nearly 100% from November 19, when it was at 24.84 Gwei. This is a significant jump from 17.66 Gwei in late October 2023.
Gas fees and how ETH and DeFi token prices react are directly correlated as DeFi and other on-chain activities like non-fungible token (NFT) minting and trading rise; gas fees usually expand in trending markets.
Accordingly, the recent expansion in gas fees could suggest that the markets could be preparing for a leg up, and tokens of critical protocols, including Uniswap or Aave, could benefit.
DeFi TVL Rising, But Uniswap Is Stuck Below $5.6
As of writing, the total value locked (TVL) across all DeFi protocols stands at over $46.6 billion as of November 21, according to DeFiLlama. This increase is nearly $5 billion more than in early November and up from $37 billion in mid-October. 
Ethereum remains a choice platform for deploying DeFi apps despite the relatively gas fees pinned to mainnet scaling challenges. The pioneer smart contract blockchain manages $25.4 billion in TVL, whereas Uniswap is one of the largest protocols with $3.216 billion in TVL.
UNI prices are up 30% from mid-October when writing on November 21. However, bulls have been unable to break above the November highs at around $5.6. From the daily chart, trading volume, and thus participation, has been tapering even though prices have been edging higher. 
This formation suggests that the uptrend was behind low momentum and sustainability. Technically, there could be more gains if there is a solid close above November highs with expanding volumes. In that case, UNI could expand, retesting 2023 highs of around $7.2.
Feature image from Canva, chart from TradingView

The WEBFI algorithm actively curates and presents current news from the Internet, delivering it in both written and video formats on our platform. Unlike many other news sources, WEBFI Network - News Balance Security is committed to a user-friendly experience. We refrain from displaying advertising within our content, avoid any redirects to external sites, and meticulously filter out any graphic content deemed unsafe, sensitive, or private. Our primary goal is to provide visitors with a distraction-free and secure environment, ensuring they receive the news they seek.
Importantly, WEBFI Network does not collect any personal information from our visitors, and we do not engage in newsletter subscriptions. We take pride in remaining entirely advertiser-free, thanks to the support of our contributors and our dedicated hosting service partners. It's crucial to note that the opinions and content presented on our platform do not necessarily align with WEBFI NETWORK's opinion, philosophy, or vision. We strongly uphold the principle of freedom of speech, welcoming a diverse range of perspectives and ideas.
---
🌐 Discover News Balance 🇺🇲 - Your Round-the-Clock Source for Unbiased News!
Experience a continuous stream of comprehensive, unbiased news coverage 24/7/365 with News Balance 🇺🇲. Our carefully curated playlist ⏯ delivers a harmonious blend of national and global politics, cutting-edge tech updates, weather forecasts, noteworthy events, and captivating entertainment news.
The best part? No subscriptions, registrations, or downloads required. Enjoy an ad-free news experience with News Balance 🇺🇲.
 Since 2018
"Introducing Unstoppable Private WebFi Websites – Your Forever Digital Haven.
Experience a lifetime of ownership with WebFi – where your digital presence is a lifelong investment. Embark on your journey to own a private website for life.
Our private servers set the gold standard in security and performance, ensuring your website stays in top form. With our lifetime license, the days of fretting about hosting renewals are behind you.
Unlock your very own WebFi space granting you a perpetual haven for your projects, free from the burden of recurring payments. Your sole financial commitment? Domain annuities to your domain provider – nothing more!
Choose WebFi and own your digital future, secure, simple, and everlasting."LEARN MORE
---
WEBFI |🟢LIVE | TECH  | MAGAZINE | NEWS | CRYPTO&MARKET | LATINO|⛅WEATHER |☕ HURRICANE WATCH RADAR WATCH
X